All you Squirrly users out there have probably noticed that the WordPress SEO plugin by Squirrly is more powerful than ever.
This article will focus on the Live Assistant feature, and how it can help create human-friendly content every single time.
Your readers are not bots, so it's paramount that your content is not only optimized for search engines, but for humans as well.
In this article, I will explain why we chose to incorporate the human-friendly aspect into Squirrly and how you can use it to your advantage.
A Few Words about the Premises of the Industry
Many businesses today are constantly increasing how much they spend on content marketing.
However, not all of them have a sky-rocketing budget they can invest. That's why they need a WordPress SEO plugin to simplify their work.
But with all the algorithm updates Google is constantly making, creating content that is both human-friendly and search engine friendly might seem like a difficult task.
Needless to say, keyword stuffing and creating useless or duplicated information is not a good idea. But that is not what SEO is about.
WordPress SEO plugins are meant to make your content easier to find for people searching for topics related to your business.
The Live Assistant from Squirrly takes things even further and gives you actionable advice on how to write content visitors will enjoy.
This way, when visitors will come across your content, they will have the best reading experience possible.
Creating content for Humans is the first and most important task for your site. That's why we wanted to include this into our plugin and really get into detail.
More about the Human-Friendly Option in the WordPress SEO Plugin by Squirrly
The earlier versions of the WordPress SEO plugin by Squirrly only checked that you didn't do overstuffing throughout the article.
Since then, we realized that even if an article isn't stuffed from our perspective, it might seem forced.
Why? Because if you repeat a word for too many times in a paragraph, that section becomes unpleasant to read.
Making sure that the Human-Friendly section is green before you hit Publish is an essential step in the content creation process.
The Easy Way to Create  Human-Friendly Content
When adding a new post to your blog, you first need to choose the keyword you are targeting.
After you insert your title and start writing, some of your tasks will instantly become green.
The over-optimization task is the one that will alert you about stuffing keywords, something that's not a good idea if you want to stay on Google's good side.
Red means something requires your attention.
For the example below, I used the keyword "Human-Friendly content". I used the word 'content' (not the whole keyword) 10 times in 139 words.
As you can see in the image below, The WordPress SEO plugin by Squirrly suggested I eliminate 4 of those words.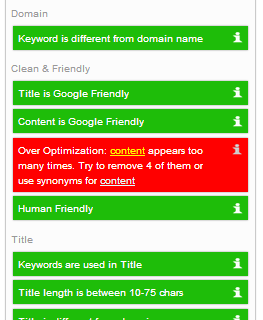 If you hover over the word 'content' that you see highlighted in yellow, all the words "content" in your text will be highlighted and counted.
If you go on to the second one, a list of synonyms you can use to substitute that word will appear.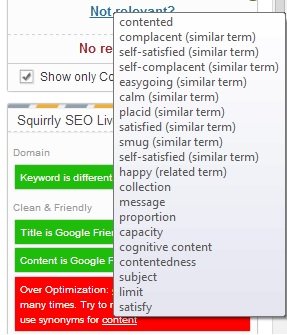 Make sure you take the correct semantic interpretation of the word. The WordPress SEO plugin can not assume which is the right meaning of the word in that particular context.
Now that we've taken care of this problem either by eliminating or substituting the repeated words with synonyms, we can move on.
As you can see in the image below, my keywords were used too close together.
To solve this, I have to add more phrases in-between them or eliminate some. If I placed the cursor above the '2nd', it would show me which of the keywords it is referring to.
For the other 3 red words which are part of my targeted keywords, Squirrly gives a list of synonyms for each of them.
The WordPress SEO plugin by Squirrly is giving you this specific information so that you can write better content that will rank higher on SERPs and ultimately convert better.
After I solved this problem, I kept on writing and totally forgot about my keyword. After a few lines, the plugin reminded me to add a keyword in the conclusion of the text.
Why does this aspect of the WordPress SEO plugin by Squirrly make your posts more human-friendly?
Because you should make a reference to the topic you are writing about – which is connected to the keyword – again in the end of the article, so as to state the main takeaway.
This will ensure that your post has a strong conclusion that is relevant to the rest of the article.
Time to Draw Some Conclusions!
Now you know why it is important to focus on your readers when creating content and then perfect it for Search.
I hope you now better understand how to use the information and tips the Live Assitant offers to create articles that are more enjoyable and convert more traffic.
Do you have any firing questions for us? Let me know in the comment section below!