The audit from Squirrly gives users precious insight into how their website's performance help them improve their online presence and boost their sites rankings.
You receive a score for your site based on several things the tool analyzes, such as blogging, SEO, social, traffic, links, authority.
Feature Overview
An Audit Score for your Content Strategy and its execution
Insights about the 6 main areas of your Content Strategy (Blogging, Traffic, SEO, Social Media, Links and Authority)
Tips on how to fix every issue which appears
Easy-to-follow guidelines and explanations, but also heavy documentation for those who require it
See how your score evolved over time
You can send the audit either by PDF or by email to a team member who can help you fix certain issues.
PRO Tips, Videos and Articles from us
Download Squirrly SEO now and boost your site ranking for Free!
ContentLook helps you take a look at your whole Content Marketing Strategy and offers an easy way to streamline your workflow and take key actions to grow your business.
Feature Overview
Audits your site, so that you are aware of how your website is actually doing from an SEO, Social Media and Online Traffic perspective.
Offers you key insights which will help you better understand the data behind your content, so that you can make informed, strategic decisions that spark growth.
Allows you to monitor your website's performance. You and your team can easily keep track of how each published article is performing to make it rank better.
You can also easily measure the progress and results of your online marketing campaigns.
Integration with Google Analytics, Trello and Slack.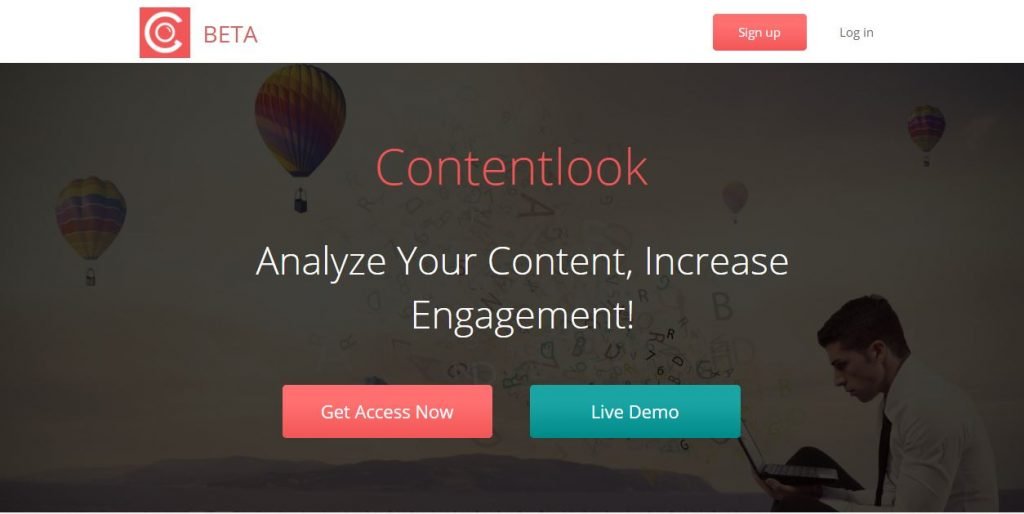 You can see a live demo here!
With Pingdom's website monitoring you'll be the first to know when your website is down and you'll stay on top of your website's performance. 
Monitoring your website's performance and servers is always a smart decision. Pingdom will display the load time of your webpage and also provide you with a performance grade based on several important factors.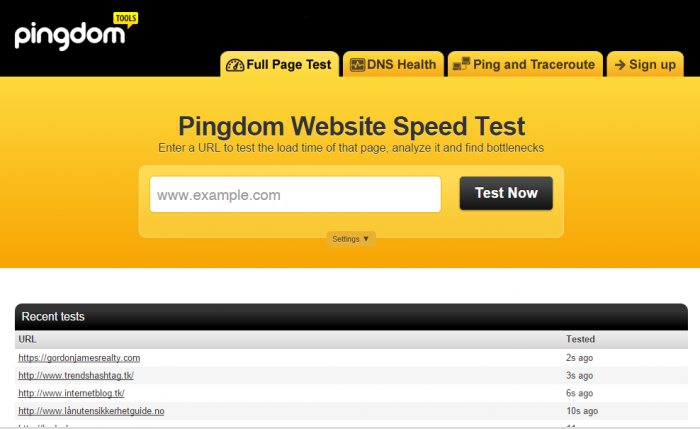 Feature Overview
Examine all parts of a web page – View file sizes, load times and other details about every single element of a web page (HTML, JavaScript and CSS files, images, etc.). You can sort and filter this list in different ways to identify performance bottlenecks.
Website's Performance Overview – Performance-related statistics based on the test result.
Performance grade and tips – See how your website conforms to performance best practices from Google Page Speed (similar to Yahoo's YSlow). You can get some tips on how to speed up your website this way.
Trace your performance history – The tests can be reviewed later. Users can see how things change over time (with pretty charts!).
Test from multiple locations – See how fast a website loads in Europe, the United States and so on.
Share your results – Share them with your friends, work colleagues or web host.
PageSpeed Insights measures the performance of a page for mobile devices and desktop devices. It fetches the URL twice, once with a mobile user-agent and once with a desktop-user agent.
The PageSpeed Score ranges from 0 to 100 points. A higher score is better and a score of 85 or above indicates the page is performing well. Please note that PageSpeed Insights is being continually improved and so the score will change.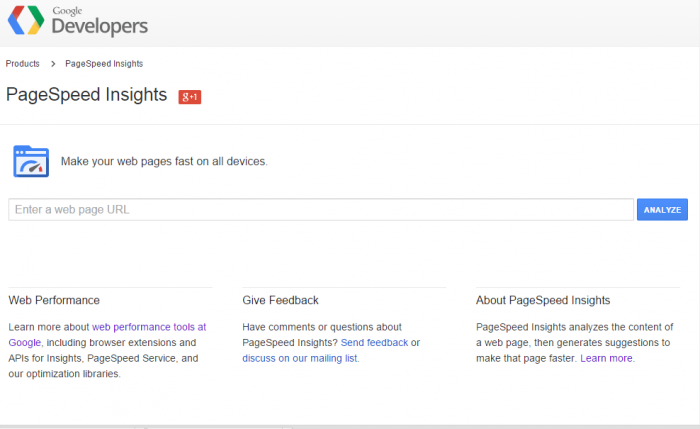 PageSpeed Insights measures how the page can improve its performance on:
time to above-the-fold load: Elapsed time from the moment a user requests a new page and to the moment the above-the-fold content is rendered by the browser.
time to full page load: Elapsed time from the moment a user requests a new page to the moment the page is fully rendered by the browser.
GTmetrix is also one of the free tools, which grades your website's speed and has a suite of features and options to optimize your website speed clear and easy.
GTmetrix can help you develop a faster, more efficient and all-around improved website experience for your users.

Feature Overview
Keep track of the performance for your page and visualize your history with 3 interactive graphs. Zoom, pan and set a date range and more!
Analyze on an actual Android device. GTmetrix passes your URL through an actual Android device to get real world performance data on your page load.
Test from Multiple Regions. Analyze the page load of your site from 7 different regions around the world.
Playback Page Loads with Videos. You can also view your page load in a filmstrip view. This allows you to get a frame-by-frame look at your page loading in real time.
Set up Monitored Alerts. GTmetrix can alert you if your page falls below a certain condition you set!
Schedule GTmetrix to run a test daily, weekly or monthly on your pages.
What Other Free Tools Do You Use to Monitor Your Website's Performance?
What other free tools you think should have made it into the list? Make sure to share your suggestions in the comment section below!