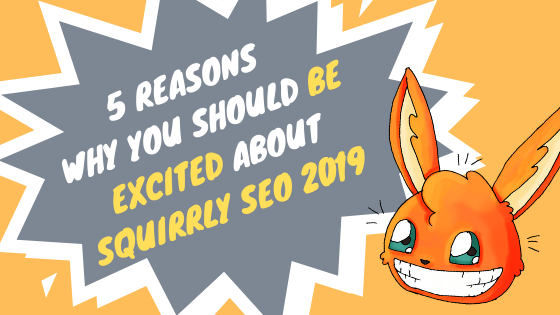 Squirrly SEO 2019. The countdown has begun. 
We got a lot of exciting news to share with you, cause we've been busy.
If you've been using Squirrly SEO for a while or just like to follow our activity online, then you know change is a constant for us.
That's because we believe there's great power in continuous improvement. So we've changed a lot about the plugin since the first version of Squirrly SEO was born over six years ago (can't believe it's been so long).
Some changes haven't turned out great (we can admit to that), while some have grown into the very core of what Squirrly is today.
What we can say without a doubt, though, is that best changes were the ones that were inspired by you, our user. Your struggles, your goals, your workflow.
Which leads me to the main reason we're so confident the 2019 version is the best one ever – namely that all of our efforts revolved around creating a tool that better serves YOU.
We've got so much valuable feedback in this past year since we've started working on Squirrly SEO 2019 – and it helped us shape the plugin into a better, stronger, more action-focused version. We're deeply grateful for each comment and suggestion we received.
We honestly couldn't have done it without you.
That said, we're excited to finally be able to give you a sneak peek behind the curtain before the official release and share a few essential details that we think will get you super excited.
[The Official Video is now available here on Youtube]

1. Experience the Best of Squirrly, in a Better Way
Squirrly SEO 2019 will offer a new and improved experience using the plugin.
Look, our focus was always to give you the most effective tools to improve your SEO and supercharge your rankings. With the new version, though, we not only made our top features more powerful but we also wanted to provide a better way to use the tools together.
An important part of that was to do a full redesign for the plugin to create better flow and the best possible experience for our users. Everything just makes a lot more sense.
For starters, the dashboard actually looks like a dashboard now – and gives you essential information at a glance.
The new interface makes it clear which tools you can use in each phase of your SEO journey
– from keyword research and organizing your keyword portfolio, to optimizing content using the LIVE Assistant, technical SEO and monitoring your results. (yes, actual rewards: like increasing your Audit Score and boosting your Rankings on Google, which you can now see in Squirrly SEO 2019)
This way, it will be much easier for you to use Squirrly SEO, with all its advanced tools, to the maximum of its potential. We know some of our users struggled with this before, so we had to fix it.  The last thing we want is for our users to miss out on boosting their rankings simply because they somehow overlooked some of the functionalities we offer in Squirrly SEO.
The new design is completely different and ensures there's no more friction and confusion. The tools are more visible, and everything in Squirrly is now more Action-Focused.
We basically made the road clearer so that you can achieve Search Engine success – without ever getting lost on the way there.
2. Work on Clear Tasks that Impact Your Rankings via Focus Pages
Over the years, a lot of you have expressed your frustration with how hard it is to keep tabs of everything that matters for SEO. And now that there are over 200 ranking factors Google analyzes to decide who deserves top positions, knowing what to focus on seems more complicated than ever.
It seems more complicated than ever, if you're not using Squirrly SEO 2019 (starting version: 9.1.03). Because, if you're using the new Squirrly then everything seems easy and you know what to focus on, in order to change your rankings for the better.
This was one of the main issues we wanted to address in the new release.
We did so by creating an easy-to-follow method that will help you navigate Google's ranking factors and focus on the things that actually make a difference. This way, you'll be able to work on the needle movers and not waste time with anything else.
And it all starts with your Focus Pages.
These are the most important pages in your site, your money-makers, the pages that you most want to rank on Google.
For each one of the Focus Pages, you'll have personalized information and tasks that you have to complete to score SEO wins. Think of it as a checklist for SEO that is relevant to how search engines work today – a compass to steer your efforts in the right direction.
For some pages, you may have 10 items on your must-do checklist (each connected to different ranking factors). For others, the number of tasks could be lower. you'll know exactly what those tasks are – and how to complete them.
The experience of working on your Focus Pages will be personalized on a per/page level. Meaning that instead of receiving generic, general information, Squirrly SEO 2019 will treat each page as an individual case to provide information, guidance and next steps that are 100% relevant to ranking that page.
You can see how this goes above any checklist you can find on the best SEO blogs; with Squirrly SEO, you're getting specific instructions that take into account the characteristics of your pages and how you rank your site.
Everything that is stopping you from achieving 1st-page rankings will be signaled using the color red. Your mission is to turn all the elements green by working on your pages.
This is a groundbreaking concept that will change and drastically simplify how you do SEO.
Another thing you'll get to see in the Focus Pages panel is the chance of ranking for individual pages in your site. To show you this percentage, Squirrly SEO looks at how many elements you've managed to turn green. (and has an algorithm for writing the decision, based on data from MarketIntelligence)
This is basically the main concept behind Focus Pages. To get all the details and see everything in action, make sure you look at the High Quality video release from our Big Launch Event – now on Youtube. Official Launch Event of Squirrly SEO 2019 – took place on April 4th, 2019. 
3. Manage All Settings in One Panel with Bulk Settings
In Squirrly SEO 2019, you'll have one panel where you will be able to place all of your settings. That's it – just one, well-organized place inside of Squirrly SEO where you can set up your titles, meta descriptions, and so on.
Also, from that same panel, you will be able to change Twitter cards, Open Graph data, Jason LD, schema. org data, basically everything about every single post in your site.
In a single interface inside WordPress.
This will make it so much more convenient for you to take care of all your settings, without having to do endless scrolling up and down a post. That's one less thing you need to worry about.
4.  Get Guidance to Build Strategies that Hold Up Your Goals
Many people still confuse strategy with tactic and use the two concepts interchangeably. In both war and SEO, this confusion can be dangerous.
The difference between strategy and tactic is that strategy comes with a plan, whereas tactic is just an action – with no clear, measurable goal behind it.
Strategy trumps tactic. Every single time. Especially in SEO, where strategy is all about sustainability and long-term wins.
That's why we made sure Squirrly SEO goes beyond the superficial, one-setting and you're done kind of approach, by giving the guidance you need to build winning strategies and the best tools to implement them.
You'll find many cool, strategy-oriented features in the new Squirrly SEO, such as:
Labels in Briefcase – keyword management tool that gives you powerful control over your SEO strategy. Using Labels, you can group keywords into relevant buckets to better organize your content creation efforts and get an overview of your content strategy. 
SEO Live Assistant that works with Briefcase. In your WordPress editor, you can search and filter keywords by labels. You can also optimize a post for multiple keywords and see how much of your content is optimized for each keyword.
Keyword Research History. In addition to providing this valuable data, the new Squirrly also searches for better keywords opportunities.  It does so by looking at your latest post and keywords that you usually target to then find better options that you should target. You'll get these suggestions via email.  This is an important step we're taking towards a fully assisted keyword experience. Remember, a successful SEO strategy is one that keeps evolving, which is why is super important to constantly add new keywords to your portfolio and seize those golden opportunities to gain more traffic from Search.
Focus Pages panel – that includes every aspect you need to work on with your SEO strategy to achieve amazing results and systematically rank your pages on the 1st Page of Google.
The Squirrly Audit which gives you a complete briefing on the most important areas in your Content Marketing strategy: Blogging, Keywords, SEO, Authority, Traffic, Social Signals.
Rankings section where you can monitor performance and see your SEO efforts translate into ranking results.
Squirrly SEO 2019 has got all your bases covered when it comes to developing winning SEO strategies and managing them to maximize their impact.
5. Get Access to All-New Coaching Sessions for All Levels
We're constantly receiving comments from our users telling us how much they enjoy the exclusive lessons from Squirrly. So we decided to create more of them. For all plans.
With the new version of Squirrly SEO, you'll also get premium content to help you become a better marketer and round up your knowledge on things like:
on-page SEO,
building backlinks and gaining authority,
keyword research,
marketing,
shaping a strong Focus Pages strategy,
Google ranking factors
and a whole lot more.
Every single resource we created for you is packed with actionable insights and clear next actions that are right both advanced and beginner website owners and SEOs.
A lot of work went into this to ensure you only get the newest, most relevant insights on SEO and content marketing. We tried to make every lesson not only super valuable but also fun. So get excited for that, too!

Get All the Inside Scoop on Squirrly SEO 2019 during the Official Online Launch Event
The most important Squirrly event of the year is here. All the work has led to this and we're beyond thrilled to finally share it with the world.
Everything we mentioned in this article touched on a few essential things you should know about Squirrly SEO 2019. But let me tell, you've only got to peek through the window.
Yes, there's a lot more than what we managed to cover with this article. This release is ground breaking. In every single way.
During the launch, though, we'll open all the doors for you! 
[from before the Launch Event – you should still read the next parts, though. You'll get to see more about what you find out if you watch the Keynote and the tutorials in the LAUNCH video]
It will be the first time ever when we'll actually show the new version in action. Make sure to join us if you want to:
Get an exclusive first look at the new design (enter every "room")
Be the first to know about Special deals
Get a Full walkthrough of the plugin, including new features
Learn about fresh concepts and tactics you can employ using Squirrly to put your ranking goals closer within reach (even if you're not an SEO expert)
Get your questions answered LIVE by Florin, the CEO of the Squirrly Company.
The live event – that's where the real action is. So make sure to join us and get to see the new design and all of the new features up close.
Register HERE. (no longer available. Tickets were sold out in under 24 hrs. You missed your chance to be LIVE with us. However, here's the video)
The access for the online event is completely FREE – but there are limited seats available. So don't waste any time to register for this launch, cause it's going to be legen-wait for it-dary!
Latest posts by Cristina Coroiu
(see all)