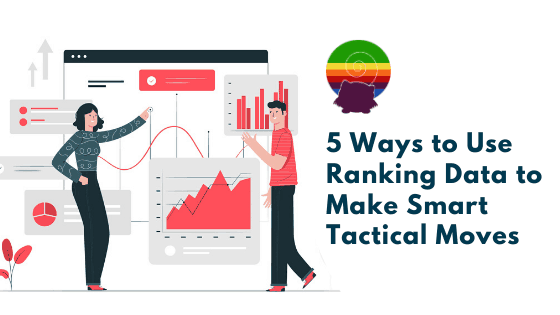 This article is all about how to drive insights from the Rankings of Squirrly SEO section to take actions that will improve your bottom line.
But first, let's go over the information you can see in the Rankings section from Squirrly SEO if you have a Business account:
The Total Average Ranking for your site.
You can request up to 500 On-Demand ranking updates every day.
The total SERP Changes for your site. This will show you how many of your pages have gone up or down in Search Rankings in the last day.
Daily Ranking Changes highlighted. You can easily see ups and downs.
The Current Ranking/keyword. In your Business account, this allows you to track keywords across numerous sites (7 sites covered by your plan)
The Best rank achieved for a given keyword.
All the keywords a page ranks for (that includes keywords you haven't optimized for using Squirrly's Live Assistant)
The number of clicks, impressions, and social shares. The clicks and impressions data is taken from Google Search Console for the last 90 days for the current URL a keyword ranks for.
Don't yet have a Squirrly SEO Business account? Learn more about what's included here.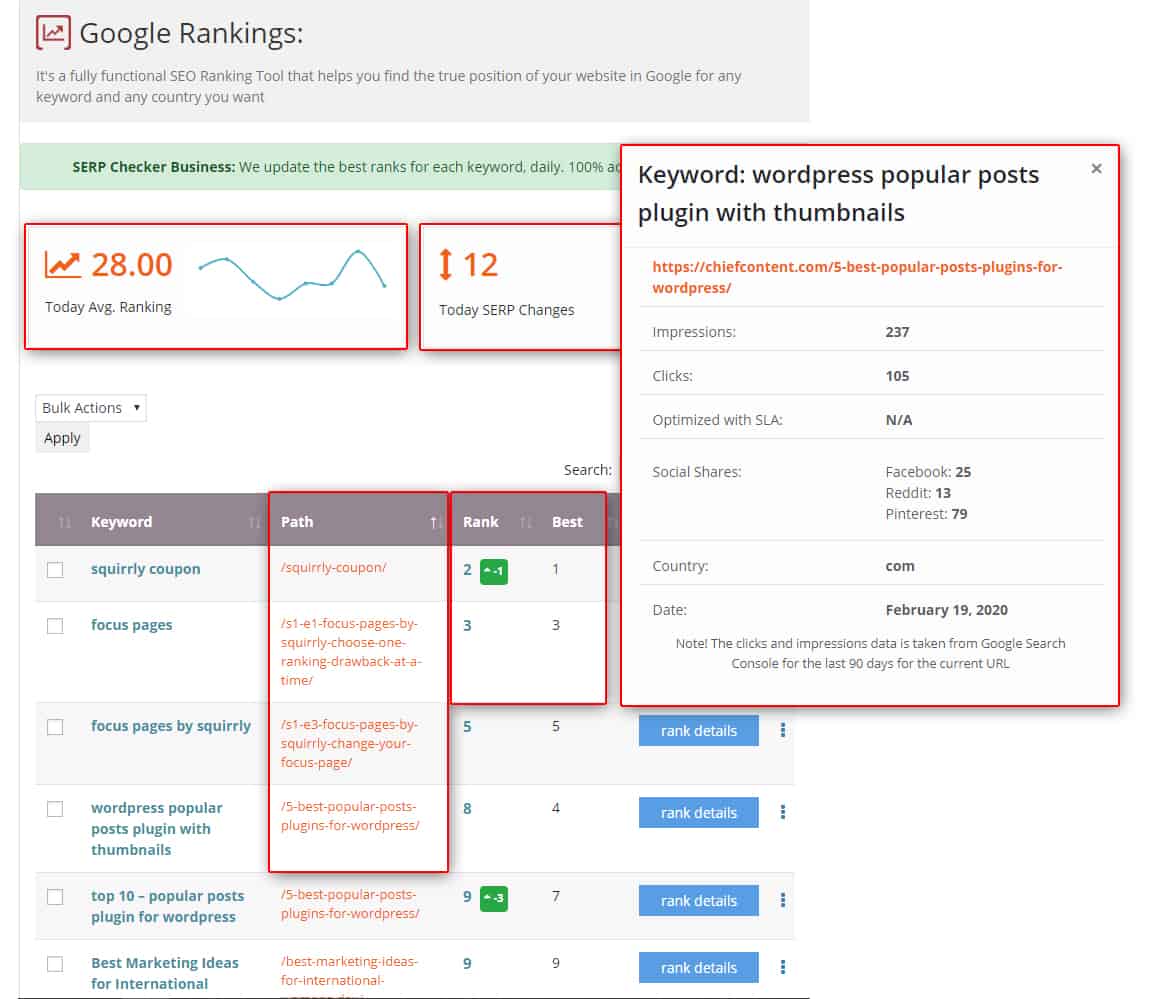 With all that information, you'll be able to closely and accurately monitor your Google Rankings to make smart decisions moving forward.
For this article, we'll focus on Rankings. I'll give you some proven advice on how to leverage the advanced ranking information provided by the Squirrly Business account to make tactical moves that will drive your business forward. 
So, let's get started!
Use Ranking Data as a Tactical Metric? Yes ✔️
Whether you're working with clients or only do SEO for your own sites, you know that rankings are always top of mind.
It's essential to track your keyword rankings  – granted you have a reliable, accurate, real-time solution that gives you valid data. And you already have that with Squirrly SEO (Business).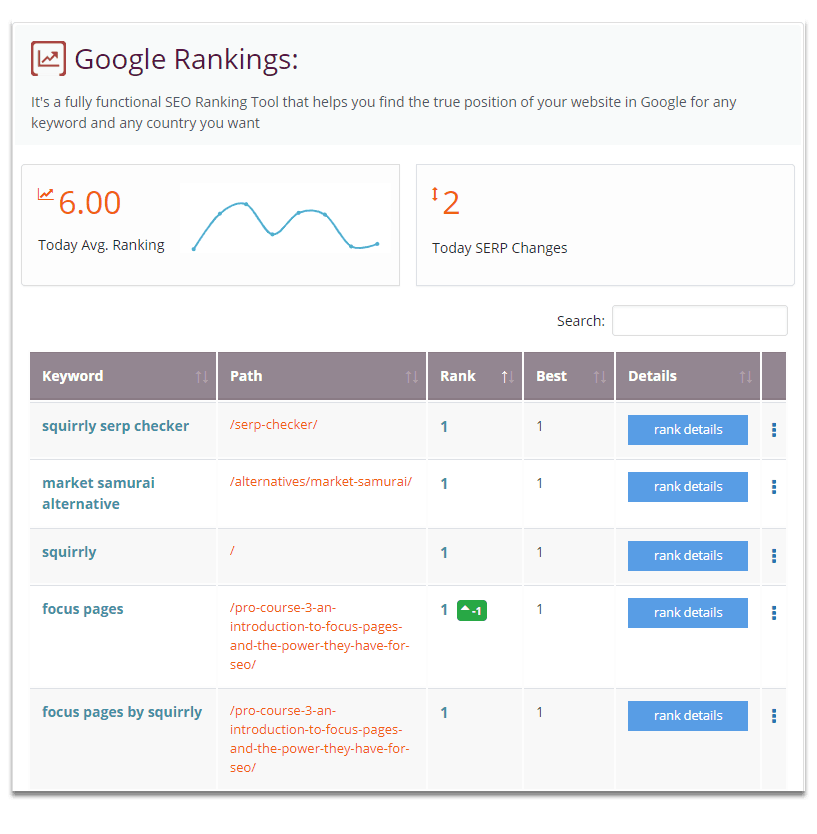 However, having access to the data is just part of the story; it's important to also act on that data and make changes that have a positive impact on your strategy. 
Because if the data doesn't tell you something, if it doesn't give you something you can use to take actions, it won't serve you much good.
The main reason I would recommend approaching rankings as a tactical metric – not a marketing metric or necessarily a success metric – is that Rankings don't always indicate success.
I know it may come off as a strong statement but think about it.
If you're ranking #1 for keywords no one cares about or no one searches for, is it really that great? No. That's because it won't bring you any traffic – as only a few people will see your listing, even if you're on the first page of Google.
Which leads me to the focus of this article:
 Understanding your rankings helps you understand the impact of your strategies and tactics.
And understanding the impact of your strategies and tactics gives you clear next actions to reach your ranking goals.
Furthermore, having a strong grasp of your rankings also helps you take some informed guesses regarding what may be happening on Google's end (like engine algorithm changes, for example).
Let's start with that.
1. React to Possible Search Engine Algorithm Changes or Penalties
With a Squrrly Business account, you can look at your previous rankings which you've been tracking to see if a certain algorithm change has had an impact on your site (or your clients' sites for that matter).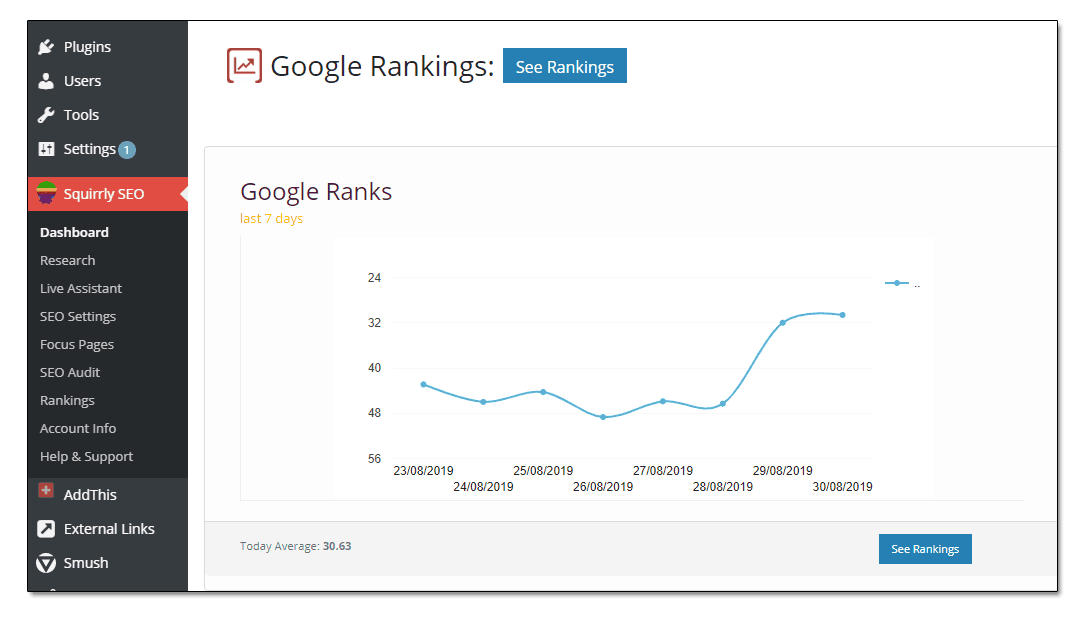 Even if there is no announced algorithm change, you can be tracking rankings to perhaps asses for yourself if Google is working on an update. If this is the case, it may cause all kinds of fluctuations to your keyword rankings, so it's good to pay attention.
Monitoring your website online using a tool like Squirrly is also critical in helping you figure out if Google might have given you a penalty. If you notice your rankings drop dramatically, it's important to react fast.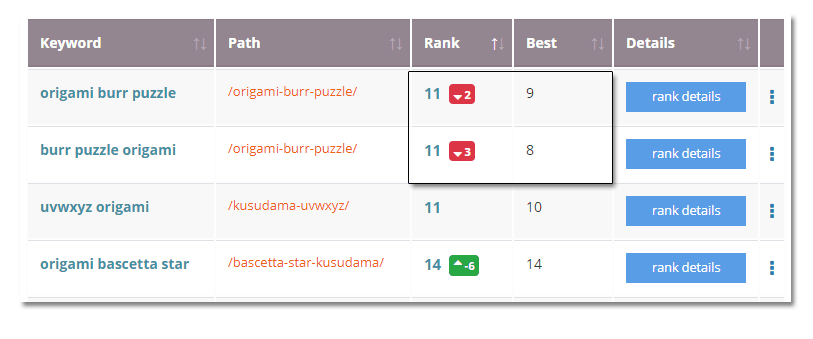 The quicker you can identify the issue on your site, the faster you can spring into action.
By monitoring your rankings in real-time, you'll know, or at least you'll be able to make an informed guess of why you're experiencing this drop in rankings. It sure beats being taken by surprise and struggling to figure out an explanation, right?
What's more, you can start crafting a response plan and take the right actions, the ones that are most likely to have a positive impact.
2. Find Quick Opportunities to Move Your Pages on the 1st Page of Google
Another way you can use the Rankings analytics covered in the Business Plan is to find quick opportunities for improvement.
Start with high-opportunity keywords, namely keywords which you're currently ranking for between the 4th-10th position on Google search results.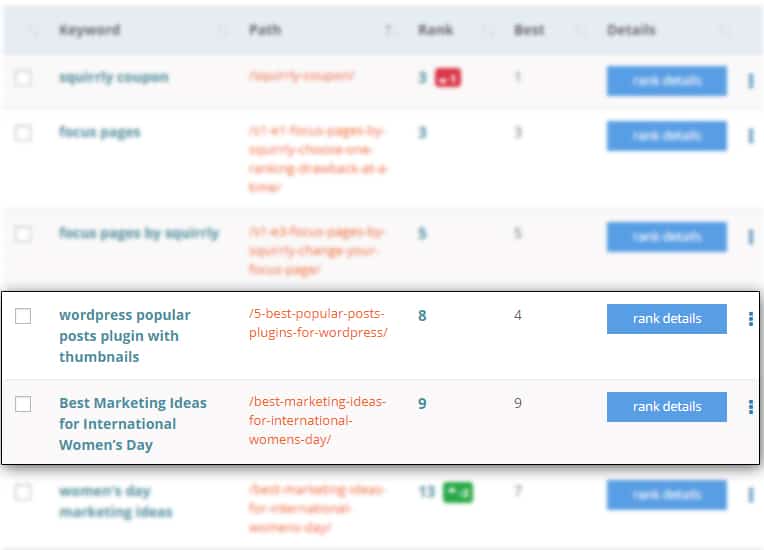 Those can turn out to be your big wins; because if you manage to get them up from those positions to say positions 1,2 or 3, it will generate a huge impact.
I'm talking doubling or tripling the amount of Search traffic you get from those keywords.
Chances are you will discover pages in your site that are in need of work – but they only require a small amount of work to cause a major change in rankings and thus in the amount of traffic they bring.
If it's a good keyword, you can work on improving that page so that it's better than some of the listings on Page 1 that rank for the same keyword.
Maybe all there is to do are just a couple of essential on-page tweaks, get a few inner links or backlinks, write a more compelling description to improve your click-through-rate, and you could move those pages up in SERP substantially.
Of course, further down you are, the harder it will be to push your page to reach the top positions – but it can be done, so why not give it a shot, right?
Especially given that Squirrly's Focus Pages system instantly shows you all issues that may be stopping your page from reaching its full Ranking potential.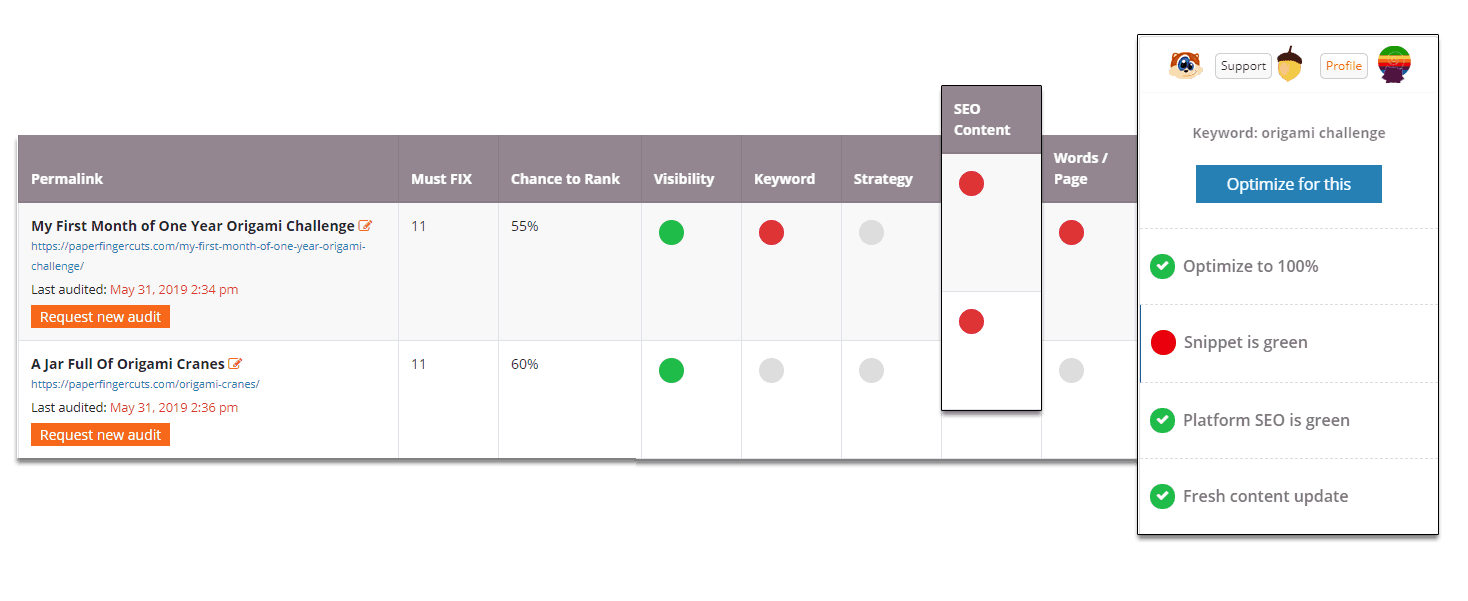 3. Do More of What Works
This is one of the best ways to use ranking data. 
I'll explain.
Say you've noticed that the overall ranking for your site has gone up. What's next? Do you open the bottle of champagne? Not before you take the time to understand what happened; what caused that change.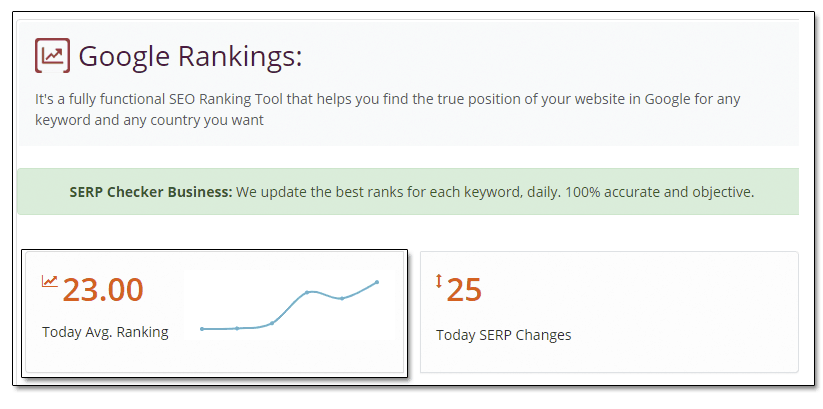 Looking at improved Rankings with an analytical eye is key here. 
It's not about celebrating the actual ranking improvement – but the success of your work and the fact that a certain SEO strategy is paying off.
It's a subtle difference there – but one that is extremely important.
A win that you can explain is infinitely more valuable than one that seems to stem out of pure luck.
That's because the second gives you a recipe, or at least a few ingredients, that you can use to replicate that success model.
Yes, increased Google rankings represent an excellent way to get proof that your optimization is working early on. This is very handy when working with clients, but also in-house, as it shows other team members that the time and resources invested are starting to pay off.
But, more importantly, this gives you a level of control that you wouldn't otherwise have.
By understanding your success, you can do more of what works.
Your ranking success gives you precious insights into the performance of your SEO work, so you can go back, trace your steps, and apply the same strategies to your other pages that you want to rank.
Without doing this, all you will ever have is hope, hope that the rankings will go up once more, without actually knowing when or if that will ever happen again.
4. Know that Poor Rankings Signal a Chance to Improve
Let's assume there's a keyword that you feel like you deserve to rank for, but Google doesn't rank you for that keyword. How do you go about this?
Looking at ranking data can be a much-needed wake call telling you it's time to step up your game.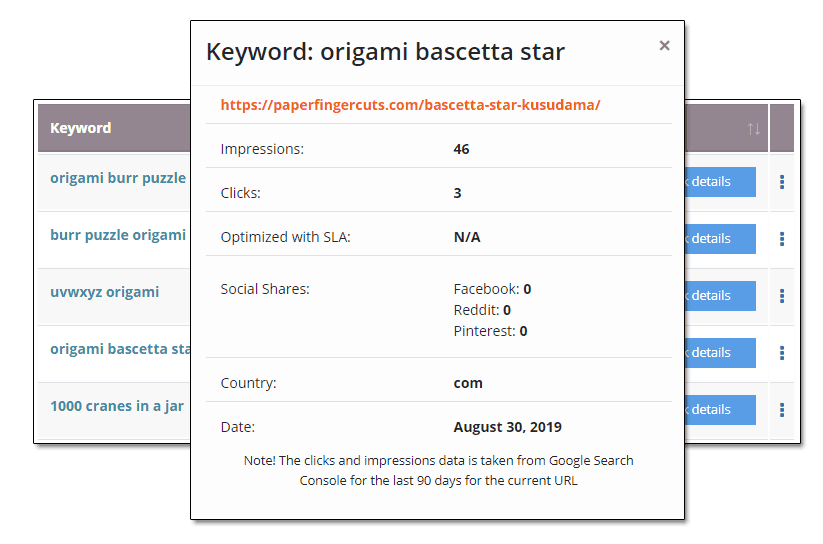 Google's job is not to make your life miserable, Google's job (see Golden Rule here) is to provide the best possible results to its search users. And with some exceptions, Google is extremely good at its job.
If you're not seeing the rankings you want, it may be a good idea to step back and take a deeper look at whether you actually deserve it.
You may come to the conclusion that it's time to improve certain aspects of your SEO so that you, in fact, earn your place on the top page of Google.
This also works if you're working with clients and they have certain expectations, like rank on the 1st page of Google, expectations that are quite unfounded – given the effort they put into actually creating a resource that deserves to be ranked.
You can look at it from an actionable way and figure out what Google is trying to tell you by NOT ranking your page for the desired keyword. More often than not, there's a message behind that Google position.
Ask yourself: Why is Google not ranking me (yet)?
The answer could be that:
The quality of your content is not high enough;
Your site Authority is too low;
There's just too much competition for the keyword;
Maybe you don't have an interesting snippet showing for that page to make people want to click on it.
Those are just a few potential issues; there are many other possible reasons why Google isn't rewarding your pages with high rankings.
However, by analyzing your pages from this perspective – that of what I can do to improve – you can come up with clear next actions.
Note!
Of course, if we're talking about a sudden, unexpected drop in ranking of a page that has already achieved good rankings, then your rankings could be a symptom of something else going on, like major website issues or Google penalties which we've already talked about.
Or it could even be related to the page's performance. Not technical, but the way you wrote it: if it has a high bounce rate and super low time on page, Google's algorithm probably really tries to get your page down from rankings and try other pages that people love more.
5. Protect the Google Positioning of Top Performing Pages in Your Site
Once you manage to rank a page on the 1st Page of Google for the keyword you want and that page is starting to bring you traffic and leads, don't just call it a victory!
The real victory is keeping your pages performing well over time.
In addition to monitoring the overall online presence of your site, make sure to zoom in on your focus pages, the most important pages in your site, as well. Do this often. 
Ensure there is no drop in the rankings of pages that are bringing you the most traffic (look at the Best column versus the Rank column in Squirrly's Ranking section to see how your current ranking compares to the best Ranking achieved).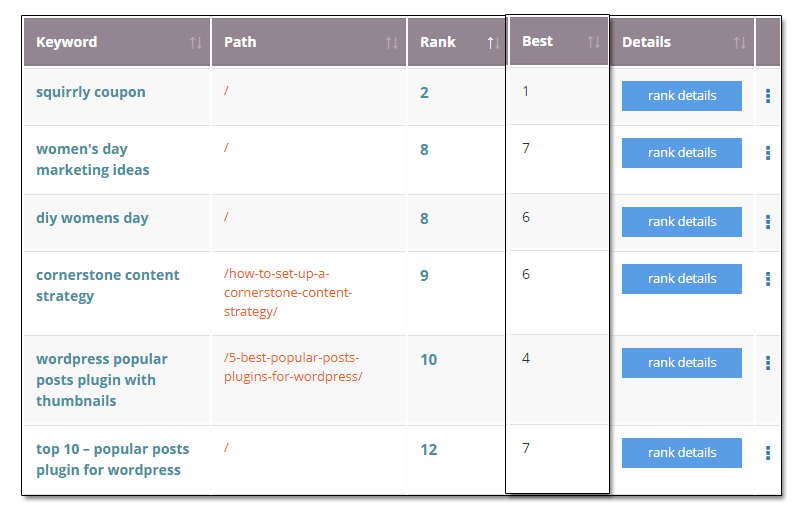 By closely monitoring your top-performing pages, you can be proactive and ensure they will continue to bring organic traffic. If you see that you're starting to lose your positioning, you can take action (again, by taking the time to understand what happened to cause this change).
Main Takeaway: Get in the Right Mindset and Identify the Goals of Rank Tracking First
To get the most out of the powerful Ranking data provided by Squirrly SEO (Business plan) always start with a Why.
Why am I getting high ranks? – as opposed to "Wo-hoo, I'm getting high ranks"  ? ?
Why has my ranking suddenly dropped? – as opposed to "S#it, my ranking suddenly dropped" ? ?
Why am I not able to rank for this keyword? – as opposed to "I'm not able to rank for this keyword. " ?
I think you get what I'm saying.
Use rankings as a performance indicator, a way to understand your efforts and identify new opportunities to improve.
Don't just track your rankings because that's what you've always done or because that's what someone told you that you are supposed to do.
Look for reasons of real value and actionability.
That means identifying the goals of rank tracking first!
By taking this approach, you'll start to see the true benefits of monitoring your rankings.
Don't yet have a Squirrly SEO Business account? Learn more about what's included here. If you want to make sure that you have access to accurate, reliable ranking data to inform your SEO strategy, then the Business Plan is right for you.