I could write on and on about the things that inspired us to create the newest version of our plugin, the vision behind it and all that. But I know that what you truly want to find out is how does Squirrly SEO 2019 solve your problems and helps you reach your goals.
So that's what we'll focus on in this article; the innovative solutions the plugin now provides to help site owners overcome critical SEO challenges and achieve ranking success. So, let's dive right in!
Challenge #1: Navigating Google's Complex Ranking Factors
Solution: Focus Pages, a Framework for Ranking Your Pages
There are over 200 different aspects that Google takes into account to decide which page to rank and on which position. Keeping track of everything on your own is impossible.
It's also super frustrating and overwhelming. We know this because we talked to a lot of site owners who have expressed, time and again, how cumbersome it is to figure out their next steps when it comes to ranking their most important pages.
With Focus Pages, this will no longer be a problem. You'll know exactly what you need to focus on to generate the most impact. That's because you'll have a precise method for navigating the ranking factors maze. You'll know every turn you need to take, every aspect you need to tweak so that Google loves your pages more.
We made everything as simple and as straightforward as possible so that nothing looks confusing. In your interface, you'll see a bunch of Red elements that signal all the things you need to work on to rank a page on Google.
Your job is to complete the tasks associated with the red elements. Once you manage to do that, the red element will turn Green. Don't worry, for each red element, the plugin will show you exactly how to turn it Green.
Even better, the plugin will tell you exactly which tool in your Squirrly SEO arsenal you need to use.
Once you manage to turn all the elements Green, you will win. Big time.
Each page has customized information.
All the information and steps you will find in your Focus Pages panel is relevant for each focus page you are trying to rank. Everything is personalized according to each individual case, meaning that you could have ten red elements for a particular page and five for another. Nothing is generic; nothing is a one-size-fits-all.
That is the reason why Focus Pages is such an innovative approach. There is no software (other than Squirrly) available today to help give you specific tasks on a case by case basis.
The Focus Pages feature gives you a working method of navigating the ranking factors you need to tweak in order for Google to rank your pages.
It's like having your very own personal digital assistant to help you choose the right keywords, create the right content and do all the SEO settings – both on a platform level and on a page level – so that Google ranks your pages higher in SERPs.
Plus, you are also going to see information about click-through-rate (via our Search Console integration) so that you can take clever next actions.
For instance, if you see that you're getting impressions but not enough clicks, you'll know that you have to change the title and the description of the post to make it more enticing and get people to click on it.
This is the easiest method to systematically rank your pages on Google. No other plugin for SEO out there offers this level of assistance.
Challenge #2: Using SEO Tools at their Full Potential
Solution: A Design that Supports using The Best Tools, at the Right Time
 Have you ever looked at a tool for SEO but had no clue how to use its functionality or during which optimization level?
With Squirrly SEO 2019, we made sure the new Design supports a clear workflow and makes it easier to use all the tools together (and also use them at their full potential).
A lot of the changes we made in the interface and the dashboard comes as a result of talking to our users and getting feedback from them.
It's what helped us identify issues that we weren't aware of before. Now, the interface creates a unified user experience; all the tools are visible in a single dashboard that actually looks like a dashboard and is easy to manage.
What's more, we also ensured you'll use the right tools at the proper time so that you can shape effective SEO strategies and maximize their impact. 
For instance, you'll have to conduct keyword research before you save a keyword in Briefcase (a tool which helps you build and manage your keyword portfolio). This ensures you only save the best keyword opportunities to your portfolio, as opposed to random keywords that have high competition or keywords that nobody searches for.
You also have essential information about your site at a glance, as you can see from the screenshot below.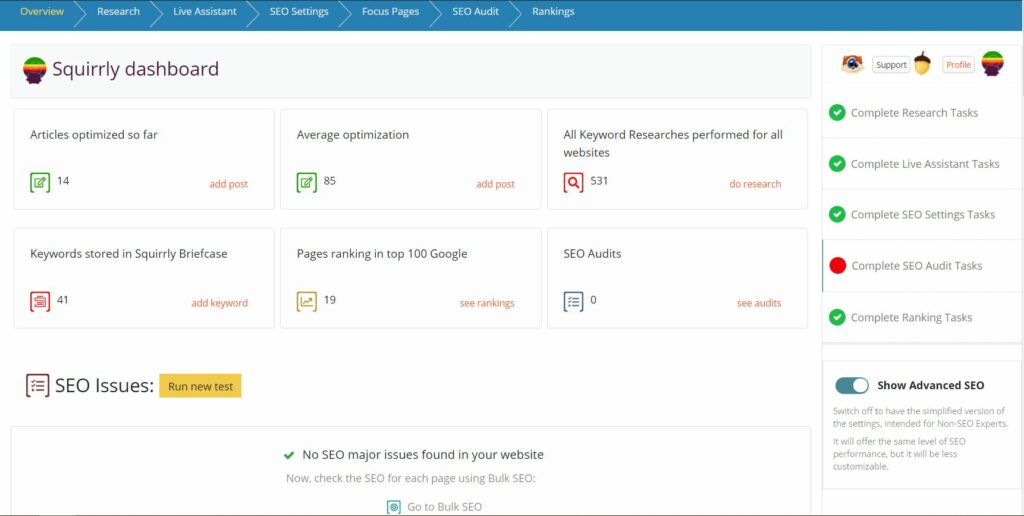 Challenge #3: Doing Settings for Individual Posts Takes forever
Solution: Bulk SEO Settings from a Single Panel
With Squirrly SEO 2019, you will be able to place all of your settings with ease. That includes titles, descriptions, and everything else your site needs for SEO. Another cool thing is that you will be able to change:
 Twitter cards;
Open Graph data;
JSON-LD data;
schema.org data. 
From the same panel. (as shown below)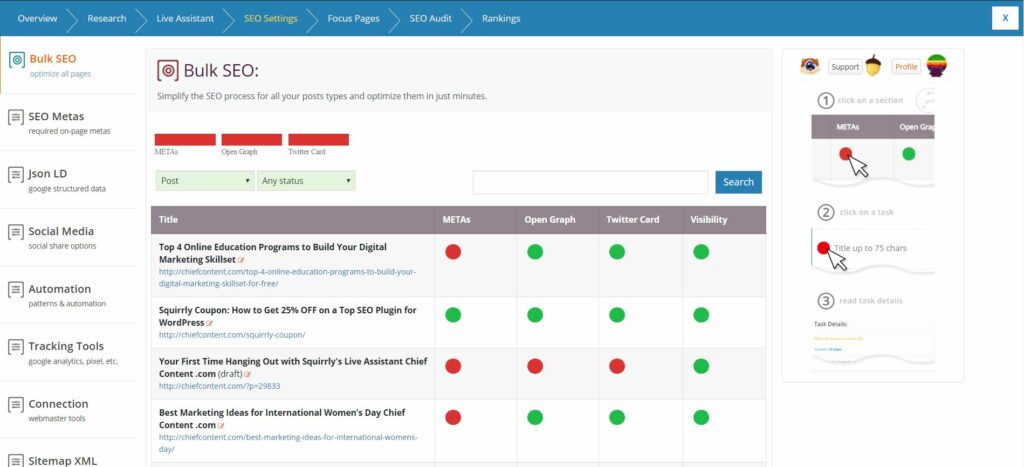 Simple, right? And since everything will be done in one panel, it's going to be super easy for you to set up all of your SEO posts and pages inside your WordPress site.
This will remove all the headache that we know most WordPress owners face when it comes to managing the SEO settings for their sites.
Challenge #4: Not Knowing what to do after Installing an SEO Plugin
Solution: A Fully-Assisted Experience using Squirrly SEO
If you ever felt abandoned after installing an SEO plugin, then you'll be happy to know that Squirrly SEO 2019  provides a  level of assistance and guidance that no other plugin offers. For example:
Squirrly Live Assistant serves as a GPS, giving you the exact coordinates for perfect on-page SEO
Discovering keywords, documenting keywords, creating optimized content ranking keywords – Squirrly SEO guides you through all of it.
Assisted keyword research. Based on your latest posts and the keywords you usually target in your posts and which are important to you, Squirrly will search for new, better keywords opportunities and offer them as suggestions. And it will do so automatically by looking at things like the trend and the competition for that keyword. This way, you don't miss out on any incredible keyword opportunities. You'll receive these suggestions via email, but you can also check them out in your dashboard if you are a Squirrly user.
Premium lessons sent via email to help you build your SEO knowledge (both beginner and advanced). We've also included tips and next steps to help you get deeper into the plugin and overcome SEO challenges easier.
Squirrly 2019: Quick Fact Box
Here are some things you may have missed from previous updates we made to the plugin:
Squirrly SEO 2019 is fully integrated with Gutenberg.
There are more advanced settings you can control in your Business plan (including how many keywords should the SERP checker analyze every day)
New Premium content created for our users (for all our available plans)
Trends in Keyword Research are now directly pulled from Google (so the info is better)
Squirrly SEO now shows you your Keyword Research History (for the last 100 keywords) to complete your experience with keywords.
Not just for WordPress Sites (Business Plan). If you have a Business account, you can add even more sites, even if they are not made on WordPress. Even for sites that are not your own, you will be able to see important ranking information. This can help you do competition research and get new ideas of keywords you should be targeting on your site. You can add any competitor's site and get a look behind the scenes of their strategy. So that you'll always know how your main competitors are performing online and which keywords they are targeting.
It's a Great Day to Start Overcoming These SEO Challenges
So, how many of the SEO challenges included in this post have you experienced yourself? Even if it's just one, it can set you back when it comes to ranking your pages on the top positions in Google.
As you saw from this post, Squirrly SEO 2019 provides solutions. We wanted to shake things up, do things differently, do things better.  The result is something that is unique compared to any other plugin for SEO you can find nowadays.
We're super proud and excited of what we managed to achieve with this version, and we hope you'll give it a try.
You can do so for FREE (14 Days Trial).
So why not jump at this opportunity to turn a new leaf in your SEO journey?
Latest posts by Cristina Coroiu
(see all)