Latest posts by Florin Muresan
(see all)
We're always excited to share tips with you that help you make the most out of using Squirrly SEO, our top SEO plugin for WordPress! And this tip is particularly interesting because it comes straight from one of our Squirrly users.
Cristina is part of a team of talented marketers who run the site called Servicii.app (a business directory for Romanians living in the United Kingdom, which aims to make their life abroad easier).
And she has an awesome hack for leveraging some of the information provided within Squirrly to create multiple streams of traffic from a single piece of content and boost online visibility for a WordPress site.
More specifically, Cristina was able to nearly double the number of keywords for which her site ranked on the 1st page of Google, basically overnight – and without creating any new content.
Curious to know how she did?
Here's the whole story, written in Cristina's own words.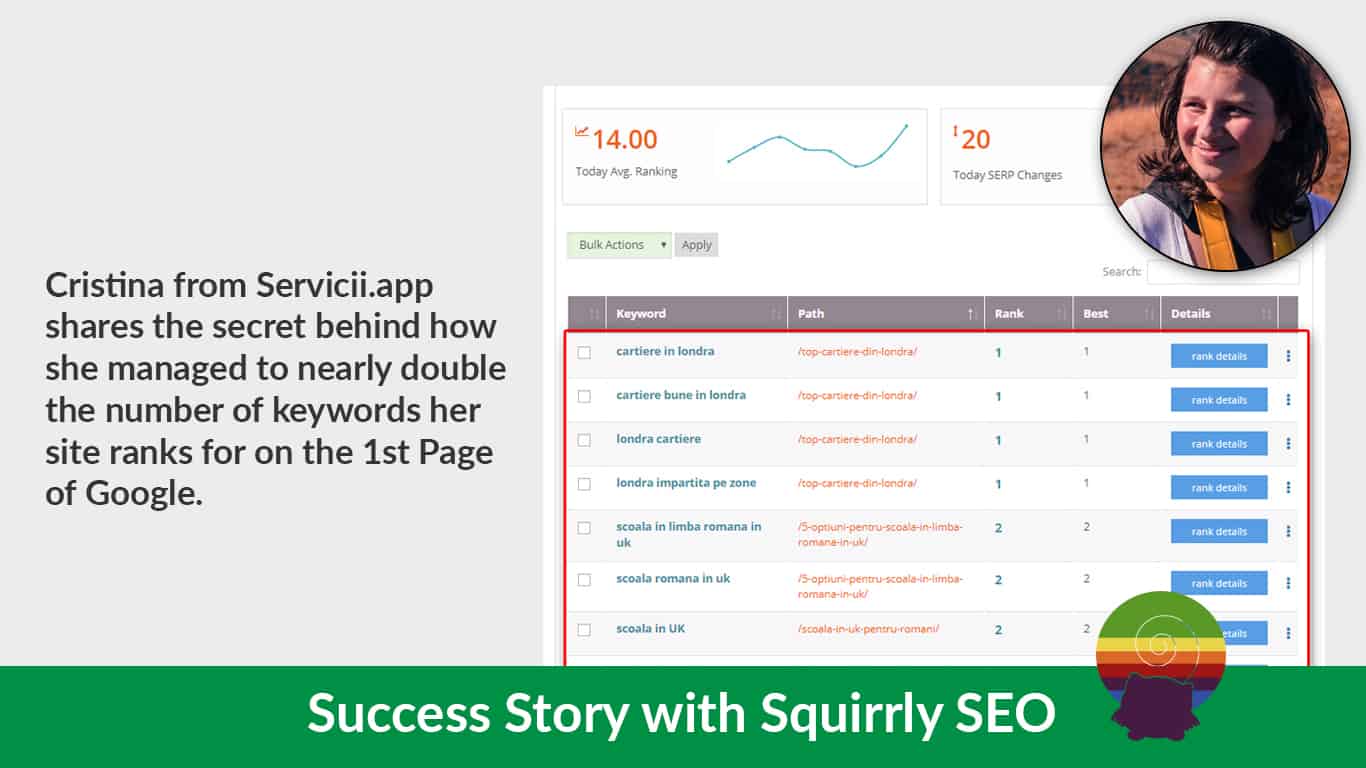 ***The rest of this post was written by Cristina from Servicii.app. Enjoy!***
How I Got Started
As a marketer for Servicii.app, I am obsessed with constantly checking the rankings of our site, especially since that's so easy to do using the Squirrly SEO Plugin.
While I was checking the Rankings, I decided to try something new to see what would happen.
But before I dive into it, here's some background information about our site.
So, on December 10, 2019, our site was on the first page of Google with 18 keywords (it's important to mention that this is a new site, so we were extremely pleased with these metrics).
It's also worth noting that all of these amazing rankings were achieved by following the guidance provided by Squirrly's Focus Pages system.
Here's a snapshot of our Rankings for the site Servicii.app (as they were on December 10, 2019):
Pretty cool, right?
In order to further increase our success, our team of writers worked on writing some new articles. The result?
We've managed to increase online visibility for our site on Google Search, which was on the 1st page of Google with 20 keywords back then.
Below, you can a snapshot of our site's Rankings from December 16.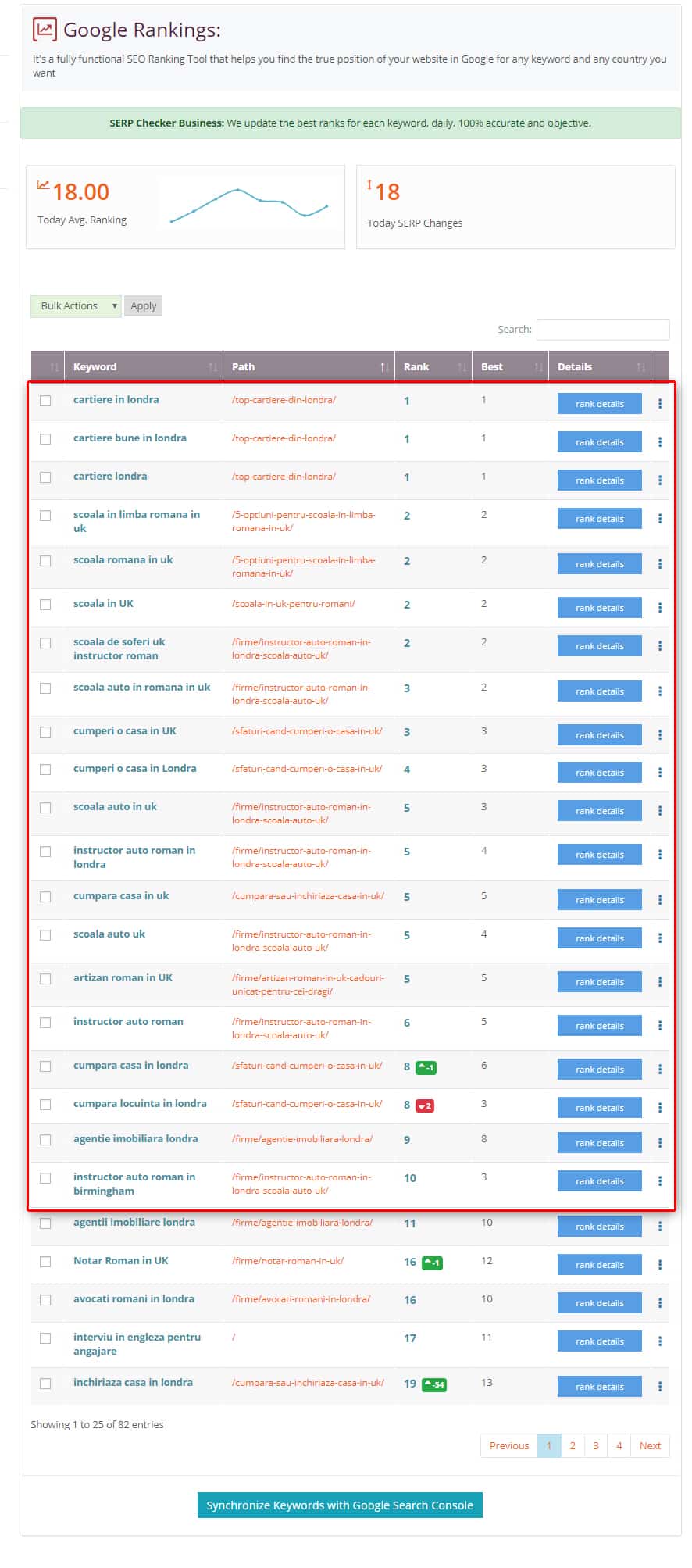 We could definitely see an increase in our success but the improvement was not as significant as we would have liked it to be.
So, here's the approach we took next.
Step 1: Synchronize Keywords with Search Console
Wanting to further advance our SEO efforts, I decided to do something that I don't know how many other Squirrly users do.
And that is to click on that blue button you see in the Rankings Section (the one pictured below; if you're a Squirrly user, you've probably already seen it).
I was curious to see what kind of information will be revealed by clicking the button and syncronizing keywords with Google Search Console.
As it turns out, just by doing this small thing, you get access to all kinds of interesting data. For example:
You can see which keywords your site is ranking for on Google and gain a better understanding of the topics for which your site is most visible on Search.
You can see the average position for keywords that you're ranking for, as well as how many impressions and clicks it generates. Squirrly also shows you the click-through-rate.
You can see the trending keywords which are suitable for your website's future topics (Squirrly checks for new keywords weekly based on your latest keyword searches).
Okay, so here's what we did next:
Step 2: Analyze the Data to Identify Most Valuable Keywords
We looked at the keywords revealed in the report and tried to find some relevant keywords that made sense for our SEO strategy.
Note! If you decide to do this yourself, expect to also find a couple of keywords that don't make much sense (simply ignore those).
Step 3: Add the Keywords to Briefcase
Once I found a keyword that I thought represented a strong keyword opportunity, I simply clicked on those 3 bullets to add them to my Squirrly Briefcase (as shown in the image above).
Using the Briefcase feature makes it super easy to organize everything and simply add the keywords you find to your articles.
Personally, I like my Briefcase to be very well organized so that I can see what are the keywords I found and which are the keywords discovered by my teammates.
I use labels for this, as well as for grouping keywords based on different topics that I want to cover with the content posted on our site.
Here's how our Squirrly Briefcase looks like: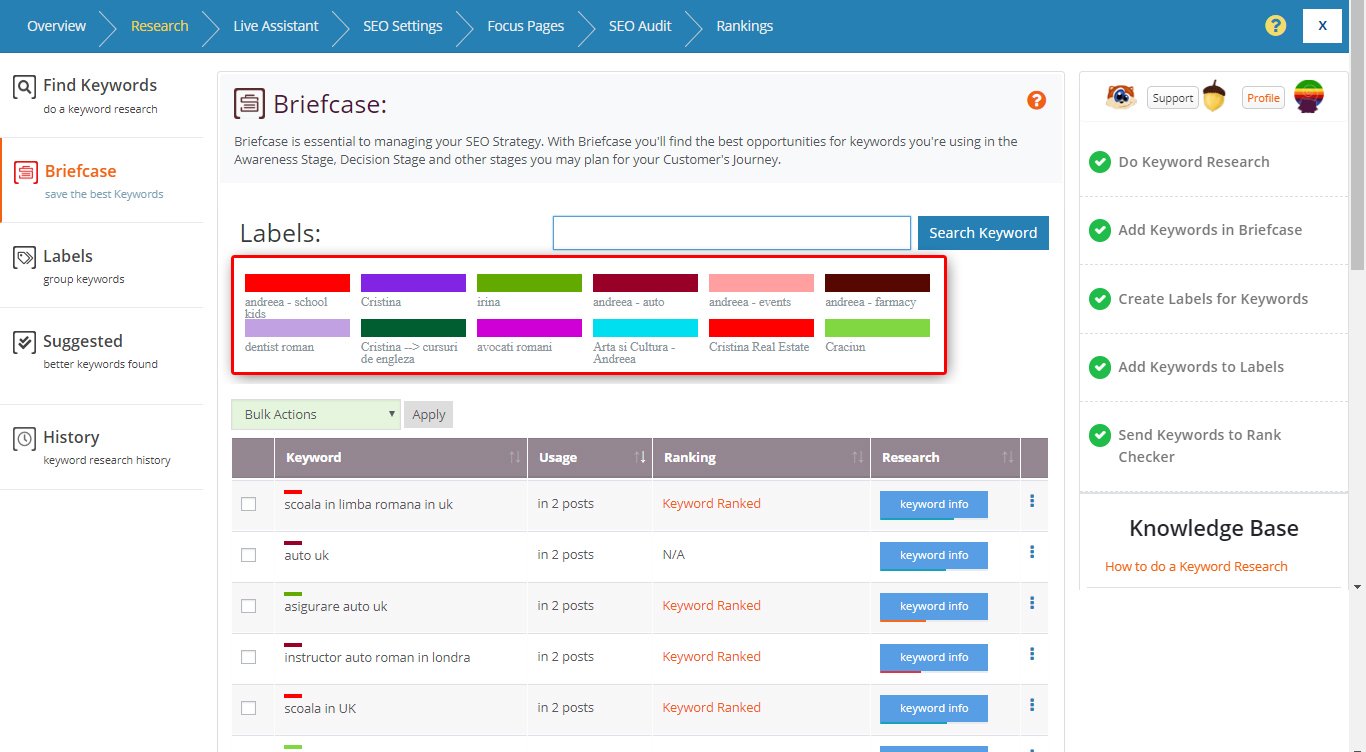 Once I added the keywords to Briefcase, I made sure to assign them a label by clicking the 3 bullets (as shown below).
The easiest way to find the keywords you've just added from the Syncronize Keywords panel is to look at the associated data.
The keywords for which you see the No research data text instead of the keyword info button are the keywords you're looking for.
Step 4: Include Keywords in Relevant Articles
Once you've identified the keywords, you can click on the 3 bullets and then on Refresh Research to see all the info Squirrly SEO plugin offers you for each particular keyword.
I recommend doing this so that you have a clear understanding of each keyword's potential, in terms of how much traffic it can bring to your site and how easy it will be to rank for.
That's what I did and whenever I found a keyword I was pleased with, I added it as a secondary keyword in an article that made sense.
For example, I had an article about the most popular Christmas markets that one can visit in London. My primary keyword for that article was Christmas Markets.
I decided to keep that keyword as my primary keyword because I previously researched it and decided it was a valuable one. However, I also added Christmas markets London 2019 as my secondary keyword and optimized my article for that keyword as well using the Live Assistant.
That's the keyword that I found by syncronizing keywords to Search Console in step 1 (well, its English translation, since all the content on our site is written in Romanian).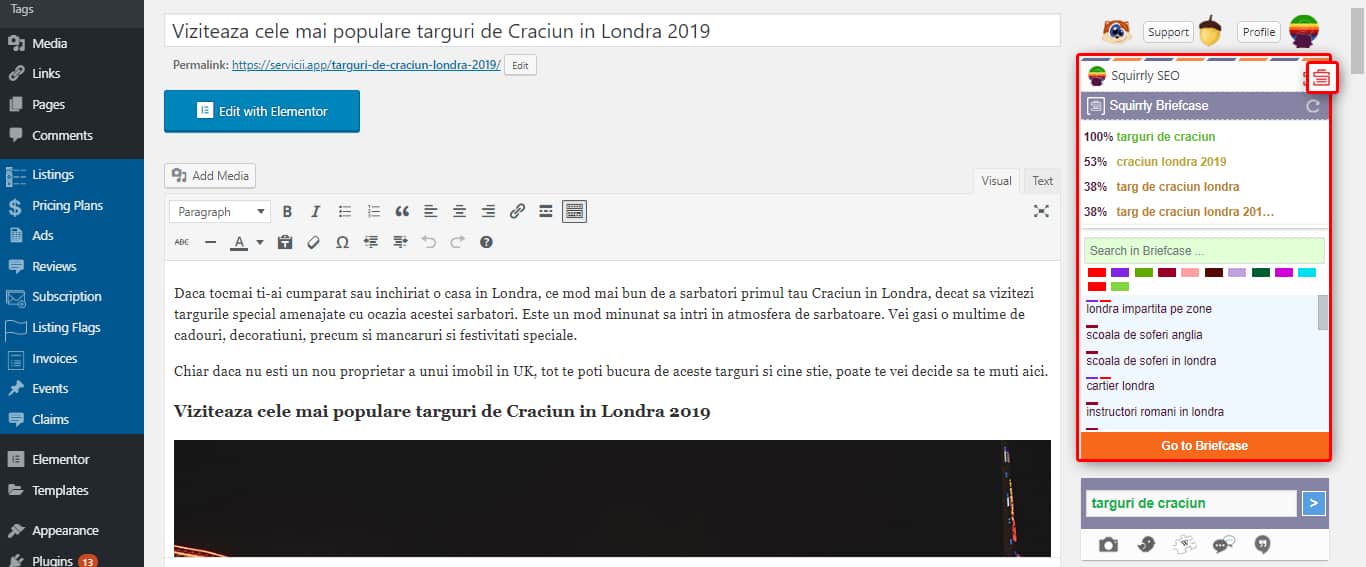 What I like is that you access the keywords extra easy – right from the Edit article dashboard.
All you have to do is go to the Edit version of the article where you want to add the keyword and click on the Briefcase icon (above the Squirrly Live Assistant).
And there they are – all the keywords you saved to Briefcase.
Then, you can either:
Filter keywords by the label you assigned to them;
Search for them in the search bar;
or just scroll through the list, as the latest ones added to Briefcase will be the first ones to appear.
And that's all there is to it. Yup, it's that easy.
Just 4 Steps and We Nearly Doubled Our Success
On December 17, 2019, we had no less than 36 keywords on the 1st Page of Google.
That means we've nearly doubled the number of keywords for which our site ranks for on the 1st Page of Google Search. And it happened literally overnight.
All without having to invest additional time and resources into creating any new articles from scratch.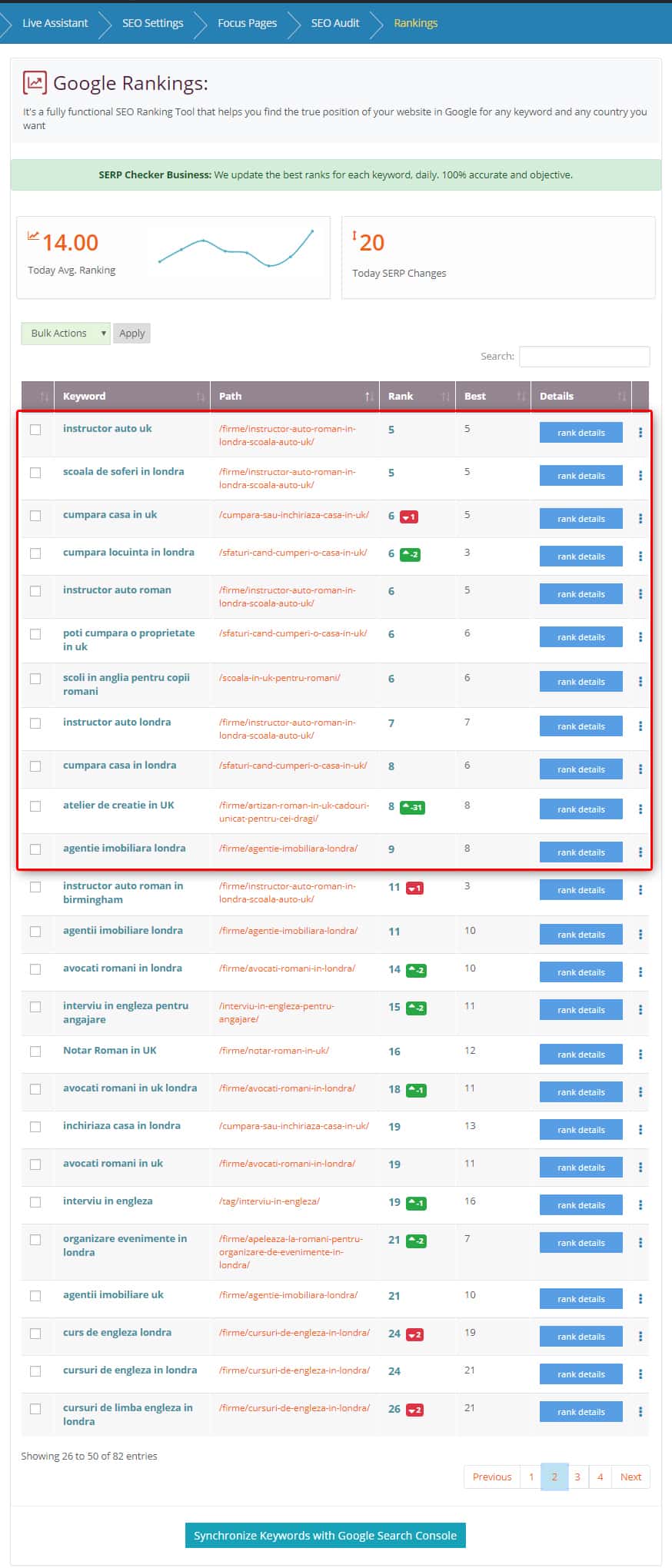 ---
The metrics speak for themselves, but if I were to spell it out, I'd strongly encourage you to give this tactic a try as well, especially since it won't take very much of your time.
Work smarter, not harder; that's what I say. 🙂
---
Excited to Give This a Try Yourself?
The tactic Cristina so kindly presented in this post is all about leveraging low-hanging fruit and getting maximum impact with a minimum of effort invested.
As you saw, this simple and quick hack can help give your SEO efforts a considerable boost by increasing the number of keywords for which your website ranks on Google.
Plus, by ranking for multiple keywords with one piece of content and increasing the topical authority of your article, you can increase your ranking for your main keyword as well.
The benefits of using the method presented in this post are significant, and the best part is that you can start putting it into action right away.
You just need to make sure you have Squirrly SEO installed on your WordPress site.
Then, simply follow the steps below:
Go to Squirrly SEO/ Rankings;
Make sure your account is connected to Google Search Console;
Click on the blue button that reads Syncronize Keywords with Google Search Console;
Pick keywords that make sense for your SEO strategy and add them to Briefcase;
Find relevant articles/pages in which you can include the keywords you saved to Briefcase. Optimize the articles for those keywords using the Live Assistant.
Ask Google to reindex those articles/pages, so it knows that you've made some changes.
Check back in a few days to see if there are any changes in terms of your Rankings.