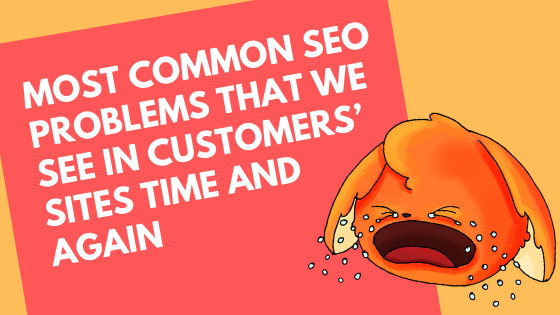 Throughout history, great things emerged as a result of lucky events. I bet you're familiar with Newton discovering gravity after an apple fell from a tree, bonking him in the head.
Well, Squirrly SEO 2019 has a different story. Unlike in the case of Newton, the idea didn't fall from the sky into our laps.
It came after hours and hours of talking with our users and customers, real site owners who faced real challenges and common SEO problems.
We listened in any way we could because we wanted to understand why some users were achieving tremendous success using Squirrly SEO while others were getting frustrated because they didn't see expected results.
So, we started digging toward the root of the problem.
We worked with site owners who told us they couldn't see results after using Squirrly. We looked at their sites, asked questions.
Soon enough, we started seeing the same issues many times over, spread across sites of different sizes in various industries. 
And here they are: the most common SEO problems we've seen, broken down into three main categories:
1. Indexation 
site pages have not been indexed by Google;
sites not submitted to Google Search Console;
creating a new page/blog post, optimizing with Squirrly Live Assistant, BUT not ensuring that Google can index that page;
sitemap XML file not submitted to Google Webmaster Tools; (search console)
assuming Google automatically sees and index new pages (this only happens in some cases for established, high-authority publishers who post content regularly).
changes made to pages (like getting 100% optimization with the SEO Live Assistant, or adding keywords to Open Graph and Twitter cards) and NOT telling Google Search Console about the change ( not asking it to re-index that page).
2. Technical SEO 
empty titles;
empty descriptions;
websites have been penalized and removed from Google;
"no-index" tags in code (often in the case of customers who worked with developers to build their sites);
duplicate content;
"/" improperly placed in the robots.txt file which can get an entire site blocked (often happens when devs forget to change the robots.txt file after redeveloping a website);
misconfigured robots.txt (important pages placed configures as uncrawlable);
duplicate titles;
duplicate meta descriptions;
duplicate codes inside the same page (even duplicates for Google Analytics tracking code);
not fixing the Google analytics tracker (which reads data wrong);
site not optimized for mobile;
slow site and page loading speed.
Plugin set-up and use
Squirrly SEO accounts not connected to Google Search Console;
The configuration of Squirrly SEO is not set up to be in line with the website;
essential settings in Squirrly not activated (like the sitemap.xml setting) resulting in the plugin not operating at its full potential;
overlooking key features such as Rankings and Performance Analytics, Audit, Live Assistant, Keywords Research (overlooking these will often result in utter failure);
content is not optimized for Search Engines using the Squirrly Live Assistant;
no clear idea of what it means to optimize the text with SEO Live Assistant / vs / optimize the Snippet for that same page.
3.  Strategy or Mindset-Related Issues
mistaking Squirrly SEO for another generic plugin for SEO and only using it to do a couple of SEO settings;
not using all of the Squirrly SEO tools together to get the maximum impact;
targeting generic keywords that are too broad, have massive competition and show no clear search intent (without search intent: you don't make money or you don't get leads. as easy as that);
targeting keywords that are basically impossible to rank for unless a site has massive authority (example: jewelry, pizza, shoes);
thin content (100, 200 words per page) that provides no real value to the audience (Google will never rank such pages high)
not knowing what exactly they want to show up in Search for;
creating content randomly;
not optimizing their snippet;
targeting keywords that make no sense from a marketing standpoint (like "nails": even if you have a nail salon, it makes NO sense to want to be indexed for this keyword. People typing nails into Google could just as well be construction workers looking for nails.
trying to be number 1 on Google with a website that has only one page;
not understanding the multiple levels of optimization that need to be achieved in order to rank a page on Google;
never using Google Analytics and Search Console from Google.
The Bigger Picture
You'd think that, with all the information that is available online nowadays, much of what we talked about so far would be common knowledge.
But so is the fact that you need to change the oil on your car regularly, yet people still overlook doing it all the time and end up at the mechanic.
Simple oversights can ruin your SEO efforts. 
Again, these are not issues we've seen once; they are more common than you think.
And, problem is, most of the users we've talked to had no idea their sites were having these problems – or that a site, for that matter, could have these issues.
Now, some of these problems stem from not taking care of the technical aspects of SEO, taking wrong actions on their sites or simply not doing the work needed to rank a page (like keyword research and creating optimized content).
And maybe, as you were going through the list above, some red flags starting popping up in your mind as well.
If just one of these problems is damaging your site, you need to look into it.
These are NOT issues that are hard to fix. In fact, most of them can be uncovered and solved before you break for lunch.
However, they have serious consequences when they are left unresolved. For instance, can you get organic traffic to your site if it doesn't even show up in Google search because it's not indexed?
Well, no.
Addressing these common SEO problems can solve months' worth of traffic and ranking problems.
That is why it was so important to build a better plugin to ensure they cannot be overlooked. This way, everyone, regardless of their level of SEO knowledge and awareness, could use it and achieve ranking success.
And more of those who didn't manage to achieve success with Squirrly so far could join those who have seen amazing results.
Squirrly SEO 2019 Comes to Solve These Common SEO Problems with an Innovative Approach
Ok, so what's new? I'll just cut to the chase and share with you a few details about the improvements that are directly aimed at solving the issues I've already addressed in this post.
Complete Plugin Redesign 
Squirrly SEO 2019 comes with an easy to navigate, clean design that guides users into establishing a clear, highly-efficient workflow. This will help users stop overlooking taking essential steps or miss out on using all of Squirrly's functionality to the max.
We've put all of the best tools under the same roof and to create a unified user experience. Put simply, everything is made in such a way that you'll systematically improve your WordPress SEO, by using the right things at the right time.
You can see in the screenshot below that all the tools are visible and placed in a way that makes total sense. Nothing you see is random – everything is thought of to make the process of ranking your pages as straightforward as possible.
Focus Pages: Groundbreaking Concept
Focus Pages are those pages in your site that you most want to rank; your money-makers.
For each page, you will see all the problems that are stopping it from ranking high on Google – whether it's an indexability  (visibility) problem, a content-related problem, a keyword problem, or anything else.
This way, users will never disregard critical aspects that they should focus on when doing SEO for their sites. In fact, with Focus Pages, it becomes pretty much impossible to make such mistakes, because Squirrly tells you everything.
Inside the Focus Pages panel, you can solve tasks that are relevant to how Search Engines work today. 
All you have to worry about is turning Red Elements Green, and you'll win. This is the easiest, most guided way to work on your SEO. No other plugin provides this level of guidance and assistance.
You'll never steer away from what really matters for SEO today and the actions you need to take to rank a page on Google.
It's also important to mention that the Focus Pages will walk you through all the major tools included in your Squirrly SEO plan, but only when it makes sense and where it makes sense.
For instance, clicking on the dot in the SEO content section will open a task window (that to your right) showing you all the steps you need to take to turn it Green (for a particular page).
Here's another example.
Below, you can see that the dot for Keyword for the first article in the list is red. To the right, you can see the information displayed when I clicked on that red dot.
It basically tells me that the keyword I used to optimize that page is not the best I could find because the competition is NOT low and the search volume is NOT big enough.
And then it points me to the solution by showing me that I should try and find better keywords using the Keyword Research tool from Squirrly to improve the page's chance to rank.

It's Why We Think You'll Love Squirrly SEO 2019
The new Squirrly SEO is more complex than before- yet easier and more intuitive to use than ever.
We built it as an answer to all the challenges and SEO problems we've seen site owners face time and time again in their efforts to rank on the 1st Page of Google.
And because it is so grounded in real experience and real struggles, we are confident in saying that Squirrly SEO 2019 will be a game changer for all those wanting to boost their rankings and increase their organic traffic.
If you're not already a Squirrly user but are excited by our vision moving forward and all the changes happening inside the plugin, you can start a Free 14-Days Trial today. No strings attached.
For all Squirrly users, thank you for always pushing us to be better. We hope you'll enjoy this update!
Latest posts by Cristina Coroiu
(see all)