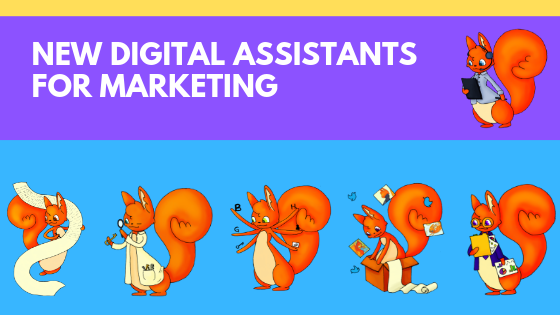 The first digital assistants we've built at the Squirrly Company were:
The SEO Live Assistant – it's like having an SEO consultant whispering in your ear exactly what you need to do to get 100% optimization on your articles.
The Blogging Assistant – helping you find targeted Copyright-free images for your pages, backup the ideas in your articles by using Tweets and quotes from Authority figures in your industry. Also helping with Inner-Links.
There were some pretty legendary Assistants. (were built in 2012.. their first iterations anyway)
It's our dream to make technology super accessible to everyone and to help every business owner out there be awesome at marketing, without the head-aches that digital marketing brings.
Our Assistants are software-based products that are embedded inside each product we create.
Their purpose?
– Help you easily perform complicated tasks while being fully guided (fully assisted in the process of doing that particular task)
We want you to be incredibly performant and overtake anyone in your industry.
These assistants will help you avoid many mistakes you could be making. It's always best to have another set of eyes watching over and helping you out.
In the blog post called: Assistants. Most of them in Your WordPress, you can see some of the other digital assistants that we've created at Squirrly.
We're also soon going to update our site's dedicated area for Digital Assistants created by the Squirrly Company.
I guess it's time I also told you about how awesome it is to drive a car while using "cruise control" or "parking assistant". I bet you've been at least once in a car that had those features.
The thing is: they go beyond features. They use the car's existing technology in a way that's 10x times more valuable for you, the driver.
That's what we're also aiming for when trying to give you an Assisted experience of doing marketing.
In 2019, we're releasing new assistants to guide you and help you achieve your goals:
– The Social Media Assistant (found in the new Squirrly Social Product)
– The Assistant inside Squirrly SEO 2019. (this one has yet to be named)
– The Keyword Research Assistant inside Squirrly SEO 2019 (helps you keep clear records of all the keyword research you've done in the last few weeks. Keeps records, adds data to your Briefcase, sends suggestions to your interface, AND also emails you if it find top-notch money-maker opportunities)
– The Strategy Assistant, which is the engine that powers our Focus Pages section. This is the king of them all. The guiding light that will make your WordPress site's pages go from a state of "Never Found" to a state of "Always Found" in top 10 of Google Search.
That Strategy Assistant will help you get top notch performance.
We've completely re-designed our engines and gear for the new season. Your WordPress will now be equipped like a Lamborghini Huracan.
And with these assistants, we're giving you the co-pilot and the right team to take you to TOP 10.
More news will follow.
Latest posts by Cristina Coroiu
(see all)