Melissa Blevins is a Squirrly SEO user and likes to describe herself as a free-spirited nerd (we relate). She's passionate about equipping women with practical tips and tools to stop the money struggle and start living their best life!
Like many aspiring bloggers and site owners, Melissa managed to turn her passion into profit via her site by reaching an audience who is genuinely interested in what she has to offer.
That's a goal many of you reading this can probably relate to.
Recently, she shared an article on her site detailing some of the steps she took to make one of her posts rank on the first page of Google – and how Squirrly SEO PRO helped her climb that mountain.
After all, that's the dream, right? Show up on the 1st Page of Google and get a significant boost in traffic to your site. But if it were easy, then everyone would do it.
Well, as you'll see from this post, it's possible to achieve amazing rankings, even if you're not an SEO expert or a huge brand.
Here are some of Melissa's amazing Results according to the information she shared with her audience; her SEO success story as it translates into numbers:
She managed to rank on the first Page of Google with her post about reasons to buy a mobile home. And she did it in 1.5 hours since publishing.
She currently has 8 posts on page one of Google with several on page 2 and 3 that are slowly moving up in the ranking
Impressive traffic volume. Up to 10,000 blog page views on her 4th month blogging.
You can read more details in her blog post here.
We win by helping others win, so we're always super excited when a Squirrly PRO user decides to share their success story and how using the plugin contributed to that success.
To us, it's an ongoing confirmation of the kind of value people get when using the Squirrly PRO features. It's undeniable evidence that Squirrly works when you are willing to do your part as well.
That being said, we like to treat every success story as a great learning opportunity because we firmly believe in the value of sharing experiences and growing world knowledge.
So read on to find out more about the strategies behind the success, and how you can leverage the same tactics and tools to shape your own SEO success story.
This article will focus on Keyword Research, a practice you'll find at the heart of any SEO success story.
It's a great day to grow your knowledge, so let's get this party started!
Lesson 1: Search Volume and Picking the Right Keywords
The search volume is a metric that tells you how many people searched for your topic in the exact way that you wrote it.
If you're a real estate agent and want to get people to work with you on their transactions, you'll naturally want to write content that would genuinely interest them like What to Look for when Going Home Shopping or How to Sell a Property Faster.
But it goes deeper than that.
For instance, the majority of people may not look for how to sell a property faster. Instead, they may look for something like: "home selling tips." Or it's possible that they will use their location in the query to get specific results and thus type in: "how to sell a property in San Francisco."
Let's take another example and say you want to write an article about inexpensive dog food. Your first guess may be to use affordable dog food as your keyword.
But is it really the best keyword? With Squirrly SEO, you eliminate the guesswork.
As you see from the screenshot below, the keyword "affordable dog food" only has 100-500 Search Volume, compared to "affordable dog food brands" that has 1297 Search Volume and it's easy to rank for, as far as Competition goes.

The keyword research was done using the Keyword Research tool from Squirrly SEO, and what it shows you- for this particular example – is that it will be more profitable for you, in the long run, to write about "affordable dog food brands" rather than "affordable dog food."
You need to know these things before you start creating content and optimizing it for keywords you assume might work but probably won't. If you don't use the words that your audience is using, you are missing out on the potential to attract the right people to your site.
With Squirrly, it's easy to pick keywords that your audience and potential customers will actually write down into Google search when looking for topics. That's because the Keyword Research provides accurate, up-to-date Search Volume Data for the country you are targeting.
What's more, you will get plenty of relevant suggestions for high-potential, long-tail keywords. One of the main reasons to target long-tail keywords is that they're easier to rank for. In other words, you won't be competing with industry-leading companies on these keywords.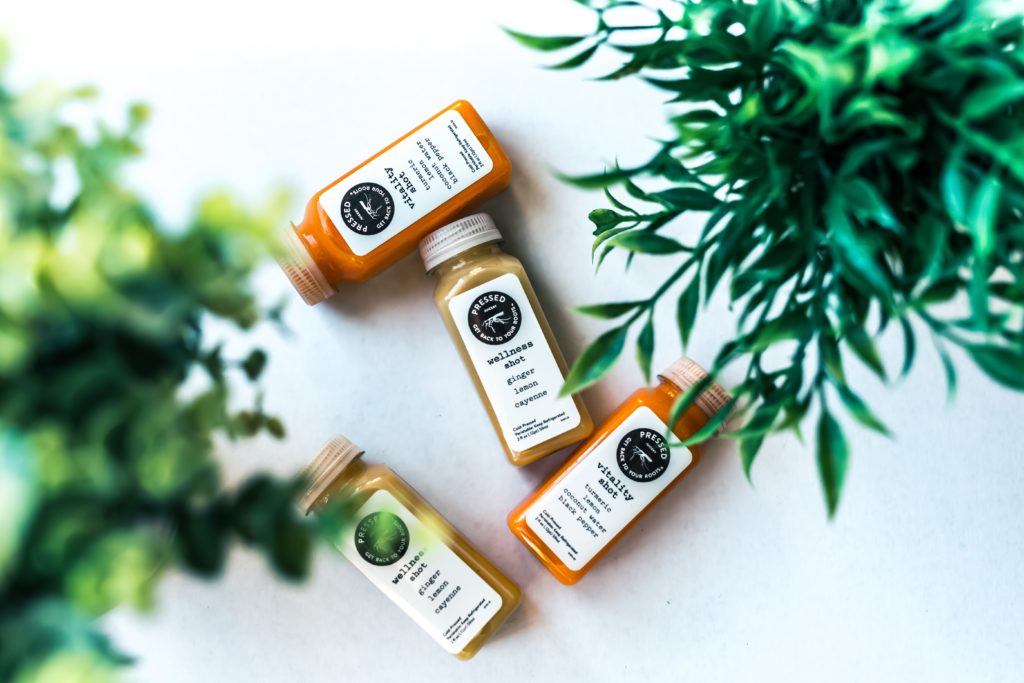 So instead of targeting a head keyword like "dog food" that has lots of competition and that all the industry big fish out there are targeting, you could go for a long-tail keyword that is more specific, such as "dog food for large dogs."
The search volume could be lower-but so will the competition.
And sometimes, you can strike gold and find incredible long-tail keywords with high search volume and low competition.
In the screenshot below, you can see some of the keyword suggestions Squirrly provided for the topic "dog food" and the associated data for each of them.
Always look at Search Volume in connection to the Competition data to find the best keywords to target. Read that again; it's essential.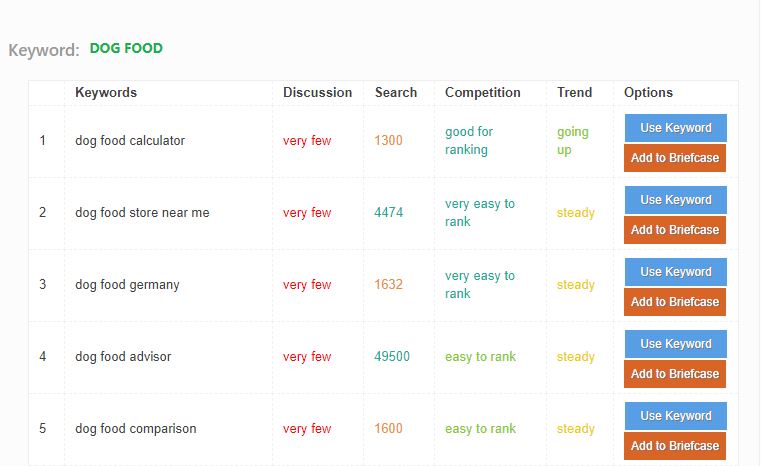 Lesson 2: Leverage Trend Data to Boost Traffic
The trend of a keyword shows you how popular the topic is over time. In other words, it lets you see the level of interest for a certain keyword. The best thing about knowing the trend of a keyword is that you can identify incredible opportunities to bring in traffic and increase your rankings.
It can also help you build a better timeline and tell you what is the best time to begin pushing a particular piece of content more aggressively.
These opportunities come around consistently and, usually, they are related to things like:
Seasonality. Search terms such as umbrellas or raincoats are obviously more popular during the rainy season.
Holidays, such as Mother's Day.
Important events, like the World Cup.
An high-notoriety launch or release.
A significant change within a certain industry. GDPR, anyone?
Social Campaigns
As you may have seen from the screenshot above, you can turn to Squirrly's keyword research to get information related to the Trend of a keyword as well. You'll find it under the Trend section, in one of these forms:
Steady. We recommend that you target keywords that have a Steady trend. You don't want to waste time creating content for falling topics.
Going Up. When you see the trend for a keyword "Going Up," it could be a great indicator that it may be time to start creating and optimizing content for that topic. This will leave you enough time to prepare the actual content. If you create it now and rank it before anyone else, it means that there will be a lot more search volume in the future for your piece. It has the opportunity to give you a long-lasting free traffic source.
Failing. It shows you that people are beginning to lose interest in that particular topic, so it may be best to consider other options.
Sky-rocketing. Like "Going Up", but like: way better. This is more like a "high risks; high rewards" type. Sometimes big media sites like INC and Forbes start targeting these and then you'll have new competition which is pretty tough to beat. However if other don't outrank you in time, then this is a great choice, because the search volume will get huge and you'll be getting more and more readers as time goes by.
Now that you know how to find that data, the natural question is "So how can you make this information valuable to your business?"
Well, you can exploit that information to get inspired to create new blog posts that will bring traffic to your site. You can be among the first to write an in-depth resource about a trending topic – if it's relevant to your audience.
For instance, if you run a blog about crafts and DIY, you could put together a fun guide about Best DIY Gift to Give Your Mom on Mother's Day – and publish it a few days before.
Sometimes, the window of opportunity is small for these things, and you have to be quick to create the content.
Lesson 3: Build a Strategy around Your Keywords
It's not important to only pick the best keywords. You have to build a strategy around them, and you have to do it in a way that allows you to stay focused and ensure consistency. Easier said than done, right?
Well, better done than skipped.
SEO results grow and expand over time. Your site is not static, it grows and moves at the pace of your goals and the work you put into it. Consistency is the name of the game here, so the more organized you are, the more chances you have to build a successful SEO strategy.
Keyword strategy is something that you need to continually tweak, re-calibrate, improve. You consistently have to add new keywords to your portfolio based on your active campaigns, goals, and needs.
Once you have a good list of keywords, it's time to organize it. This was a need that several of our users have expressed, and the Briefcase feature is our solution to cover that need.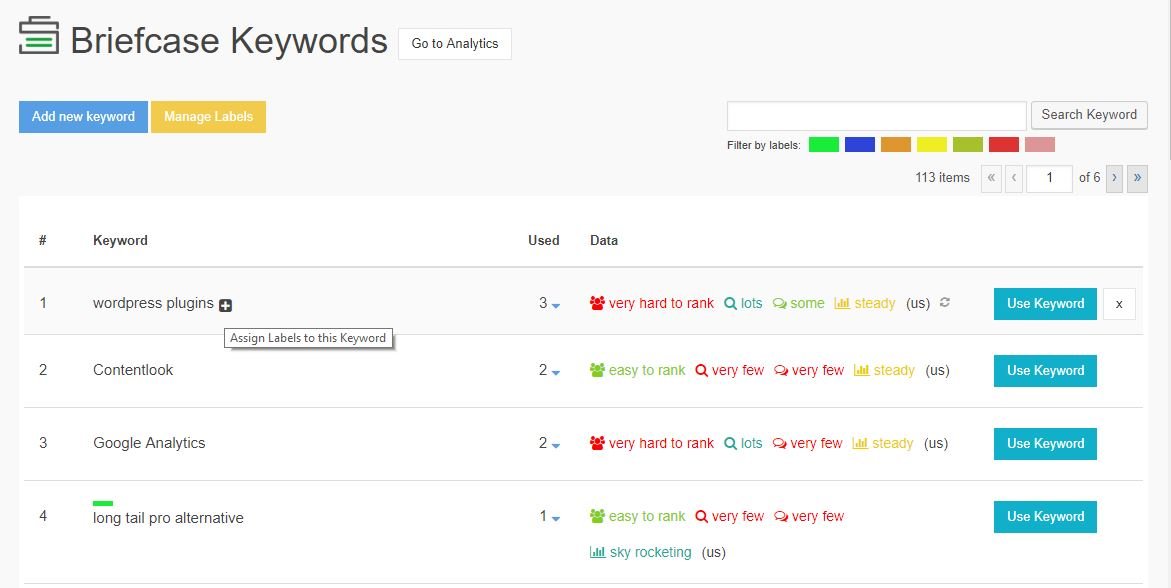 As you can see from the screenshot above, Briefcase offers a structured way to manage your keyword strategy and have a clear overview of your progress.
Notice that you can see the associated data for each Keyword you place in Briefcase. It also shows you how many times you've used that keyword to optimize articles or pages.
You can assign labels to keywords based on your current strategies and content marketing campaigns. Then, you can filter keywords based on labels.
Categorize keywords based on different stages in your Customer's journey or any other criteria that help you stay organized, such "best opportunities", "strong purchase intent."
Ensure that everyone on your team of writers, if you have one, will know what keywords to focus on.
Lesson 4: The Tool You Use to Do Keyword Research Matters
In her article, Melissa Blevins said this: "There's a specific system that new bloggers must follow to get their posts to rank on page one of Google. It starts with a great SEO plugin and keyword research. I can't stand AdWords for keyword research as it's clunky and not exactly accurate."
Well, she's right! Using AdWords' Keyword Planner Tool (the kw planner from Google) to conduct Keyword Research so that you can rank in Organic Search Results is like buying a train ticket to Paris and expect the train to take you to Wakanda.
Ok, maybe I'm exaggerating a bit for effect. Not that AdWords isn't a valuable tool, it's just that it's not the right tool for the job, as AdWords is mostly linked to keyword competition for Paid Search.
Looking for the best keywords to rank for using AdWords may not show you ALL the valuable keyword phrases that have a high search volume connected to a word or phrase. It may show you some, but 'some' means you risk missing out.
If you don't want to have to worry about that and know that you'll be given the best keywords suggestions that your site can rank for, give Squirrly SEO a try today.
Lesson 5: Tracking Performance Is Essential to Future Performance
Your job is not over once you've published the article which you've optimized for a specific keyword. It's important to track the Analytics and see how your article is performing.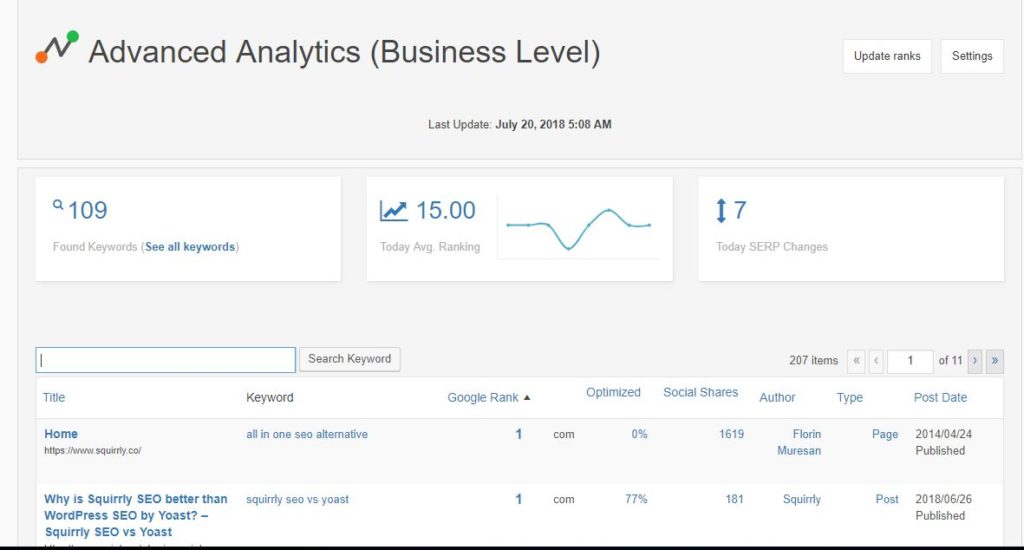 This is yet another critical component of a healthy SEO strategy which Squirrly makes super easy to manage. In the Advanced Analytics section of the Squirrly Business Plan, you can access essential data, such as:
The Google Rank for a keyword you've targeted in an article or page,
Changes in ranking position for your articles and pages,
The Specific keyword your page ranked for,
Your Site's overall ranking position,
The number of Social signals.
This way, you'll know if the work you've done brought an improvement in the quality of your site and content or not, and go from there.
You Can Do It Too! Start Typing Your SEO Success Story
Like many other things in life, success in SEO boils down to mastering the basics.
And keyword research is for sure one of the essentials. Do keyword research, do it well, do it consistently, and results will come.
So, to recap; here are a few best practices inspired by Melissa's success story that you can incorporate to keep ranking and reach the top positions in Google for queries that are relevant to your business and goals.
Look at Search Volume and competition data to find golden nugget keywords that have a high potential to bring targeted traffic to your site.
Identify top opportunities to bring in lots of traffic to your site by leveraging current trends.
Build a strategy around your keywords and be consistent with the content you publish.
Using Keyword Research Tools that show you results for Organic Search is paramount.
Do not underestimate the power of reliable Analytics. Tracking how your articles perform on Google is an essential component of any SEO Succes story.
Melissa's success using Squirrly SEO is just one of many more.
300,000 Squirrly-surfaced keywords already ranked on Page 1 of Google.
In a single week, 6,200 new keywords researched and optimized with Squirrly SEO reached page 1 of Google.
You see, it's possible to achieve exciting results even if you're not an SEO expert or have massive resources. Take what you've learned today and use it to replicate this success story – or shape your own.
Give Squirrly PRO a try and start whipping up your SEO recipe for Success today!
Latest posts by Alexandra Nicola
(see all)