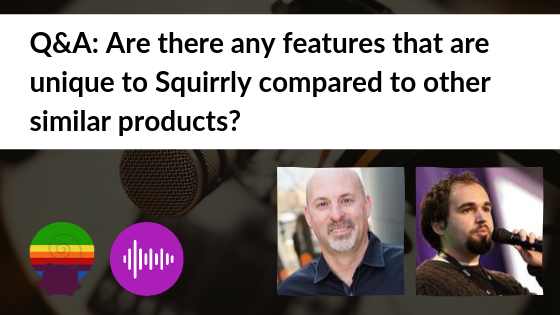 Recently, Marv Dorner from the BeBizzy Break Podcast invited Florin Muresan, Squirrly's CEO, for a conversation about Squirrly SEO and Search Engine Optimization in general.
Coming from a WordPress developer's side, Marv had a distinctive approach to learning more about Squirrly SEO, which translated into some very interesting questions.
His questions are probably some of your questions as well, which is why we decided to share segments of that conversation here on the Squirrly blog. Check it out.
Marv: Are there any features that are unique to Squirrly SEO compared to other similar products?
Florin: So, keyword research has been our focus since day 1, because we figured that many people who have a website go with "jewelry" or "jewelry store" as their keyword. There are hundreds of thousands of jewelry stores all around the world, why are people going to come to your website?
So, with a keyword research tool, you can find a lot of ideas, even if you're in a niche like jewelry.
Maybe you can get ideas like "what to wear to a prom," and then build an article around that and you mention the jewelry that you have or your jewelry store inside of the content.
You can find a lot of great ideas for content using the Keyword Research Tool.
Marv: That is nice to have because there are other tools out there, but you got to go outside your normal environment and log in to another tool or subscribe to another tool. To have that inside where you already live is a huge benefit.
Florin: And one of the biggest problems with using keyword tools is that maybe you find some great ideas, but one week after that you will forget about all of those amazing ideas.
What we've done is that you can actually add the keyword to your Briefcase, and you can label it and create a lot of ways to access (and group) the best keywords that you find.
****************
This is a transcript of a section of an extended conversation between Marv and Florin. (answer featured in this article starts at 29:19).
For the full interview, check out Marv's podcast here.
If you're interested in Marv's thoughts on Squirrly SEO after this interview, make sure to read his article here.
Squirrly SEO features mentioned in this segment of the conversation:
Click on the links above to learn more about each feature.
Latest posts by Cristina Coroiu
(see all)