You need an A.I. to win with an A.I.
The algorithms from Google have become incredibly complex since I started out with SEO back in 2009. Yes, 11 years already filled with Google algorithm updates that keep changing the game on and on.
What most people don't know is that dealing with simple sitemap and Meta descriptions is a bit laughable when considering that those are just 2 ranking factors out of 200 ranking factors that Google uses to decide how to create the search rankings for every search that a user performs.
Not to mention that many of those factors become more important or less important each month and sometimes according to user actions on certain search queries (words that a user types into the search engine; aka keywords). Yes, their impact changes according to user behavior on the pages they visit after finding them inside search engine pages.
Just recently, we've had a client who used the FREE version of Squirrly SEO and managed to get SIX of his pages to the first page of Google (read about it here). 
Here's how he managed to achieve these amazing results!
1) He took the 14 Days Journey to Better Rankings a couple of times. (the first time he did it, he already managed to rank 1 page)
2) The secret of the Journey to Better Rankings is that it makes you work with Focus Pages section, which is now powered by our own A.I., that uses machine learning on hundreds of thousands of websites to figure out how Google currently looks at ranking factors… and which ranking factors it offers more "ranking power" to.
This month, a set of factors might make a bigger difference, the next month, the same set might be of less importance. And so on.
Use Our A.I to Get a Feeling of How Google's Rank Brain "Thinks" and What it Looks for.
That's why you'll see the Chances of Ranking score changing often.
Especially as you complete more Daily SEO Goals (in WordPress – Squirrly SEO – Overview) or as you complete more of the recipes from the 14 Days Journey to Better Rankings.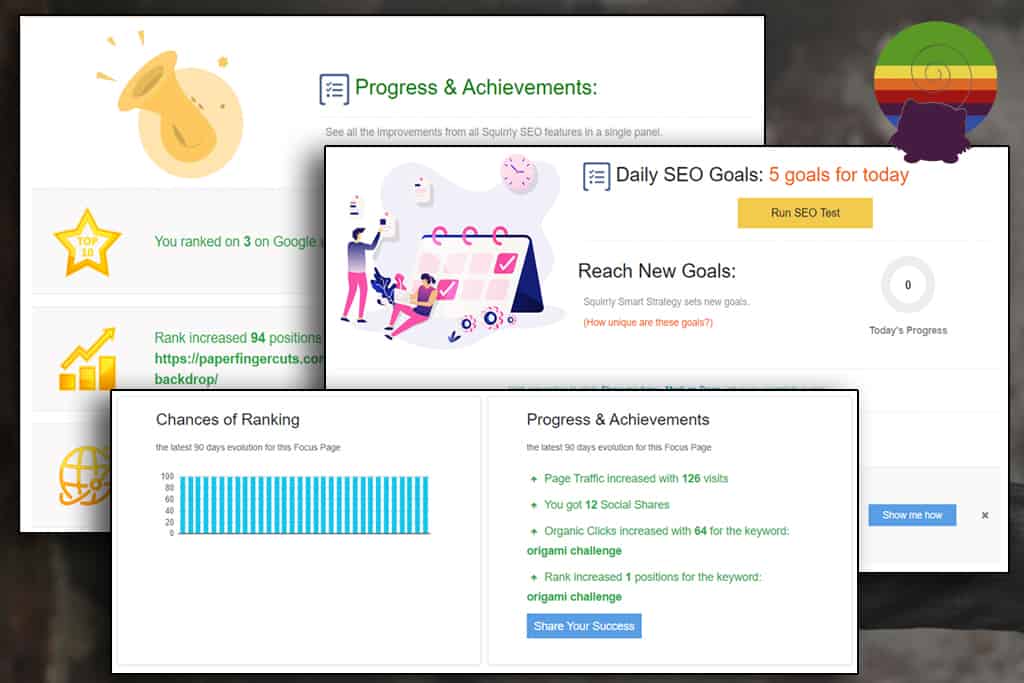 So, when thinking about starting your own Journey to Better Rankings, know that we give you the information, the skills, the Humans (from within the JourneyTeam Facebook Group), and we even give you an A.I. to give you a glimpse into how Google's A.I. thinks.
Make sure you have the latest version of Squirrly SEO installed inside your WordPress site and Keep Ranking!