When you play the game of product development, win or lose, you keep improving. At all costs.
There's no other way you can survive the massive amount of competition coming your way, and that's particularly true in the case of a WordPress SEO plugin; 2018 shapes up to be a highly busy year for the WordPress SEO plugins on the market.
Having learned this throughout the years, we knew we had to develop an ever-heedful mindset and work continuously on exciting updates to keep our users engaged and up there among the top SERPs. After all, we know we only win by helping you win.
But enough inspirational talk.
It's time we disclose some factual details and tell everyone how, why and what we worked on throughout the last year to make Squirrly SEO Plugin a bigger, faster, stronger SEO tool for the non-SEO experts out there.
You'll learn how Squirrly improved in 2017 and what are the upcoming features to keep you steamed up for an SEO-fruitful 2018.
Squirrly SEO 2017 – The Current State of Affairs
Squirrly 2017 has been built to comply with the current Google elements. You can easily identify these upgrades through the green G17 badges in the plugin section: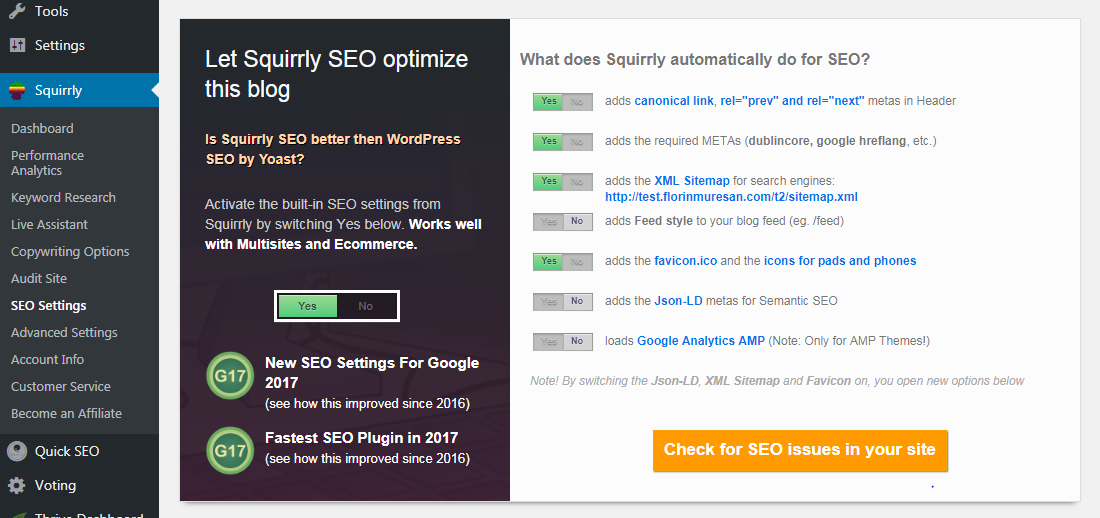 In 2017, our main accomplishment for the Squirrly SEO Plugin was perfecting the Keyword Research Feature. Not only has its algorithms been significantly fine-tuned for better accuracy and analysis, but it also proved to be a solid alternative to popular tools like Google Keyword Planner.
If you try out the Squirrly 2017 Keyword Research Tool, you'll get 3 times more long-tail keywords than you got with the 2016 version. You can now increase the precision of your SEO efforts (especially if you want to improve your position in local SERPs).
Other major features that are fully compliant with the G17 requirements – and will continue to be improved upon – are:
The Inspiration Box that helps content writers stay focused on the post they're editing while also performing the needed research within the space of the same post (I guess it's needless to point out what a priceless skill focus is nowadays, isn't it? 🙂 ).
In 2017, this feature saw an essential improvement with a button that allows you to inner link to other pages on your website without leaving the editing mode on the current article. Actually, my colleague Irina wrote an awesome piece on the Inspiration Box here. Make sure you check it for a complete tour of this well-rounded feature that I hope will change your writing life.
The possibility to request an SEO Audit hourly.
New Google subdomains you can find keywords to rank for (the count of countries we're currently supporting is at 26 – more to come in 2018).
Extra support channels: we can now assist you via our Facebook, Twitter and YouTube profiles.
Open Graph major update that enables video content in your shared articles to be viewed by your users directly from their Facebook or social networks feed. Talk about user engagement strategies! This one is pretty powerful – and no other WordPress SEO Plugin does that, really.
Integrations with many other WordPress themes and plugins. This means that you won't need to worry about Squirrly not working with other plugins. In other words, all your plugins will 'collaborate' better and will not behave like squabbling siblings anymore.
 Change The Game – with Squirrly
The dedication to continuous product development and improvement is not just empty, boastful speech. We got so caught up in the process that we actually found ourselves having too many ideas. We further nurtured these ideas into completely new updates for the Squirrly SEO Plugin 2018.
And because we were such overachievers, we launched Squirrly SEO Plugin 2018 at the end of April 2017. How about that? 😀
Now, before proceeding any further, I need to make a clear breakdown of what the 2018 version is comprised of (because we're not just talking upgrades here, it's a full suite of improvements; a multi-lane lot, if you want):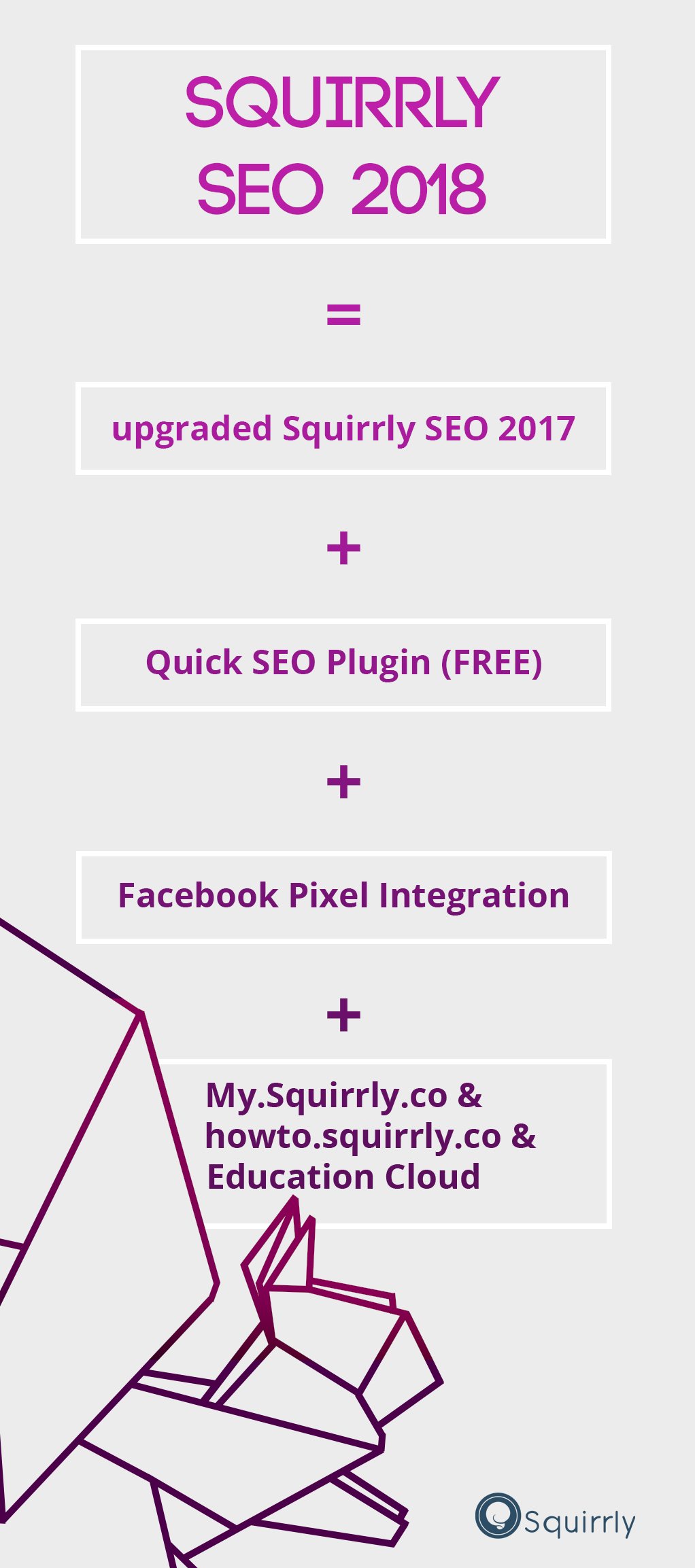 Quick SEO Plugin and Facebook Pixel Integration are separate features that are already part of the Squirrly SEO Plugin family. But they are going to be the stars of our SEO suite next year, so watch out for that.
We'll shortly come up with a Q.S.S. (Quick SEO by Squirrly) focused article, but until then, here are the main benefits of using it:
controlling how your website listing looks like in search engine SERPs
quick access to social network listings settings
preview of how your website listing will look like
handy settings for post patterns with several post types
OG (Open Graph) settings for Facebook and Twitter
In fact, how about you take a look at how Quick SEO by Squirrly actually works? Learn more with the video of the launch event:
Squirrly 2018 gives you absolute control over your site and what Google shows or doesn't. But next year, there'll be even more of that.
Because we're working on a No index feature where you can manage any URL that you don't want to be indexed.
For next year's version, Squirrly will also introduce an update on the SEO Audit by giving you the option to include your Google Analytics account so the Audit will be based on exact data not on estimates of traffic.
Within the Business Plan, you'll have the possibility to check your Google Rank. To improve this experience, we will use our servers rather than your sites.
Control Facebook Marketing to the Finest of Details
Facebook has made it easier for eCommerce sites to track their performance and analyze their audiences for better targeting. That's why they developed the Facebook Pixel tool.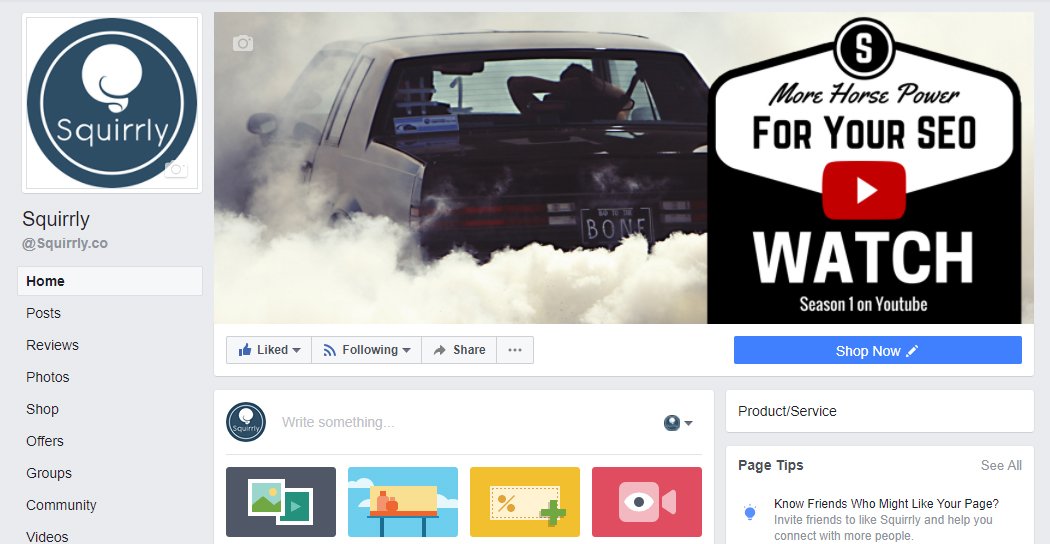 If you have a Facebook business page, you'll want to use this tool for monitoring:
Facebook campaigns analytics
fine-tuned Facebook audience targeting
proficient user segmentation
To integrate these tracking goodies into your WordPress site, you'd need to insert some lines of code.
But who has time – and resources – for that, right?
Luckily, Squirrly 2018 already has a Facebook Pixel integration in place, so you get all the benefits just by inserting your Pixel code. Here's how you can do this from your WordPress dashboard:
2018 brings some more exciting news: we're preparing an even more proficient integration, where your eCommerce will track its Facebook campaigns by getting specific user behavior insights. You'll learn who likes, shares or clicks on your products, for instance.
Can you imagine how much better targeted will your Facebook marketing – AND remarketing – campaigns be? You'll get advanced insights and analytics right inside your dashboard. Remember, that's without having to write a single line of code.
Something like this would do, am I right?
2018 Is Also about Learning More
At Squirrly – as you may have noticed – we're quite big on empowering and passing on knowledge. So we needed to make sure we were providing our users with handy and complex resources that'll both teach and inspire them to learn more about SEO.
[sqcta text="Because, at the end of the day, what is a hard-worked, complex tool without knowledgeable users who make the most out of it?" type="background"  bcolor="white" bbcolor="gray"]
So we soon realized we needed to improve the informational products that serve as props to maximize the impact Squirrly SEO Plugin users get, irrespective of their previous SEO expertise. These products can be found:
Right inside your dashboard, if you go to my.squirrly.co. Best think of it as your personal space for Squirrly SEO Plugin-related issues where you can sign in with your Squirrly account access data.
On a dedicated platform – howto.squirrly.co, where you have unlimited access to the Squirrly Knowledge Base.
On the Education Cloud, where users get content marketing lessons organized in 6 modules (for now, more to come in 2018).
In the plugin sections, by clicking on the links provided in the description of each section.
But there's more!
Because too many educational resources never hurt anybody, did they? So apart from the GetGrowth YouTube channel, Florin and Alexandra came up with yet another idea that empowers everyone to get better at SEO stuff.
I'm talking about the new Home SEO series – specially designed for those who want to take matters into their own hands and DIY their SEO quickly and effectively.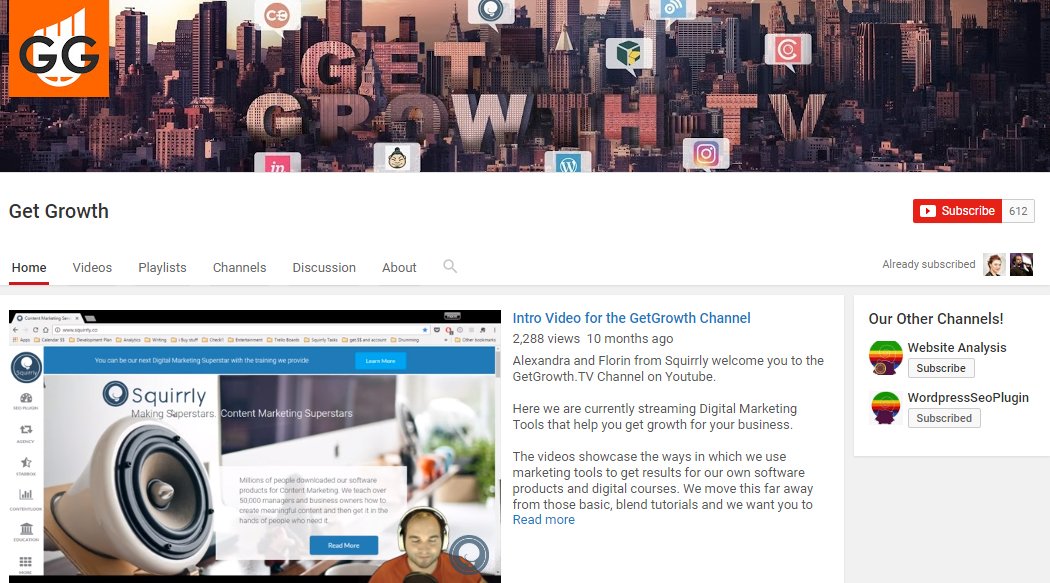 Pro tip: you can find some of the SEO tips and tricks included in the resources above if you follow our Twitter account where we post brief lessons each Monday and Tuesday. Maybe you prefer this way of learning.
eCommerce SEO Done Right
At the end of 2016, smartinsights.com revealed the top sources driving sales and traffic for eCommerce sites. Turns out, search-driven traffic made for a solid 34%. This means that out of 100 people landing on your eCommerce website, 34 learned about your business by performing search engine inquiries based on keywords.
Here's where SEO is instrumental.
Having it in place means:
---
Prospective clients DO find you among those first Search Engine Result Pages (SERPs).
---
Your website listing in said SERPs gives enough information for people to identify you as a trustworthy brand.
---
The page snippet of the content you're sharing is displayed in the search results as a rich object (customized written and media content that really conveys an accurate and also polished idea of what your company has to offer). This is valid both for content featured on social networks and on search engines listings.
---
For each of the above SEO essentials eCommerce sites have to take care of, Squirrly WordPress SEO Plugin 2018 comes up with a suite of powerful settings that have been upgraded in 2017 and are to be further developed in 2018.
Here's the line-up:
While working on all the features above and all the ideas we had for 2018, we soon came to the realization we were actually building maybe the strongest WordPress SEO suite for online businesses.
Of course, every website owner needs to have these SEO settings all set-up, online retailers even more so. With so many product pages, their website architecture is more complex and thus is prone to generating more duplicates that eventually pile up and determine Google to tax their ranking.
You can avoid being one of them – if you start using Squirrly SEO Plugin to the maximum. 
108.
That's the count for current Squirrly features that help eCommerce websites work hand in hand with Google bots – and we're definitely not planning to stop here.
I mean, why stop if it already goes in the right direction? At Squirrly, we understand the phrase 'room for growth' differently. The room is actually a gym with a springboard in it – all in service of your eCommerce. We're rooting for you and we're working to prove that we can catapult your sales with solid ongoing content marketing efforts.
Proof: 2018 will bring your eCommerce site some fancy integrations with Squarespace, Shopify, and other CMSs. Stay tuned for more info, we're pretty excited about how all this will turn out! 😀
 You're Growing = We're Growing
By now, it must be pretty straightforward that we're thinking about growth in terms of contributing to others' evolution. Maybe it seems a bit counterintuitive, but we value our users as our partners, so we have this policy wherein we make it easy for them to take a peek into the work we're investing into coming up with fresh, useful stuff.
So here's the catch: type 'seoplugin.xyz' into your browser and you'll land on this public Trello board where we document all our current and incoming updates and ideas.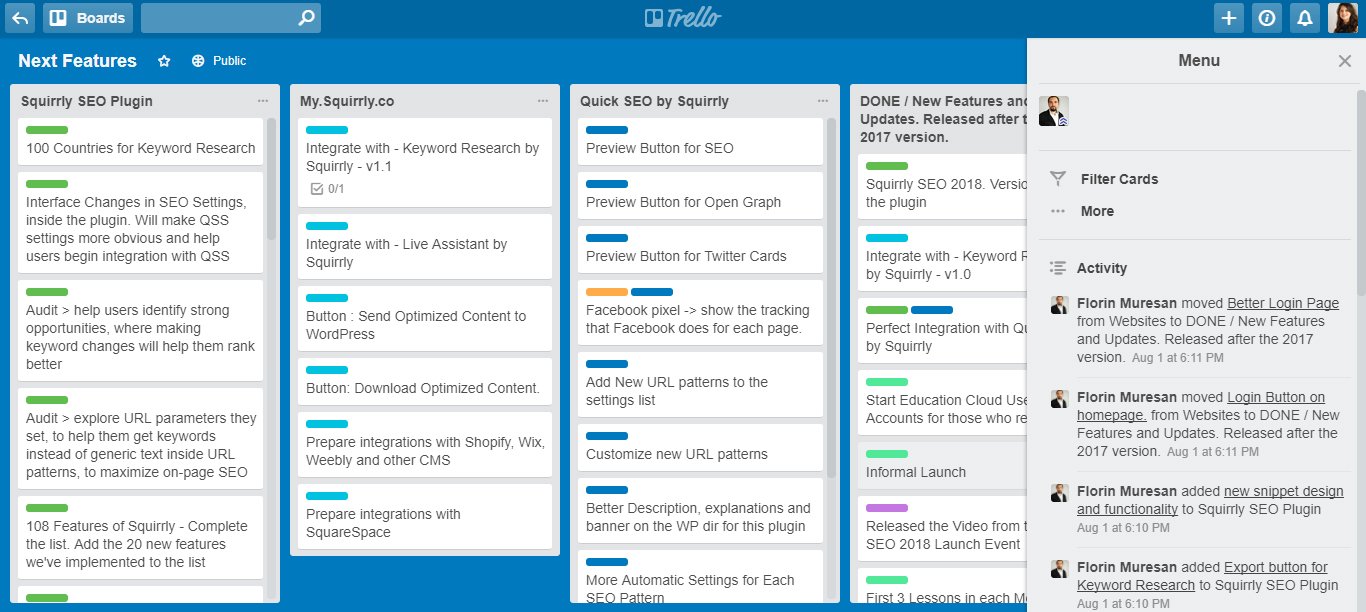 This is basically us spilling the beans on what happens behind the scenes. What do we have to gain by doing so?
Oh well, just a strong belief that by letting you know what's behind the product development process of a WordPress SEO plugin 2018, you understand the real work put into offering you the best experience. Maybe, one day, you'll follow in our footsteps, who knows?
Oh, and one more thing.
You can actually be featured on this board and contribute to improvements that will help you in the first place. Just visit the Squirrly homepage and a chat box asking for your feedback will pop up. Type in whatever your SEO heart desires and we could actually turn it into a feature on the SEO Settings panel. We can't wait to find out what you need!
Squirrly – A WordPress SEO Plugin 2018 Can't Come Soon Enough For
And now, story time!
Once upon a time, there was a squirrel that wanted to store its stash of resources in a safe place, so it found a tree that looked solid enough to face whatever incoming storms. It saw a hollow that served its needs, but soon that was not enough. The squirrel needed more items in the shelter and this is how a tree in the house was built, then new strategic places popped up.
But it was all in vain without other squirrels that could share the benefits of that whole setup. So our squirrel brought in some fellow forest creatures. Hooray! Now there was a happy bunch working together towards growing a strong community.
The squirrel whose story I've just revealed is – you may have guessed – our own company, Squirrly. We started small and expanded with an ambitious goal in mind. This is what's driving us, day in, day out: building the means that prop fellow WordPress website owners to become better marketers.
Irrespective of the kind of Squirrly user you are, 2018 is bound to grant you lots of extra SEO intelligence from your WordPress dashboard.
All of you are about to improve in the content creation department. Ease of access and workflow improvements will contribute to a major change in the dynamics of your writing life. I mean, even Neil Patel has recently professed his appreciation (again!) for our SEO Plugin and his words are all out there for everyone to read.
And remember: when you buy Squirrly SEO Plugin, you're not just purchasing a plugin.
You're actually getting a suite of SEO tools that'll not only boost your rankings, but also create the premises for you to become not just a better writer, but a better marketer and online retailer as well.
Latest posts by Alexandra Nicola
(see all)