The Business Plan from Squirrly SEO opens the door to many new golden opportunities that you can explore to increase online visibility for your content, build new connections and increase your reputation.
Here are just some of the extended capabilities of the Business Plan:
Unlimited Optimizations that you can make using the Squirrly Live Assistant;
300 keyword researches/month;
7 sites that you can use Squirrly SEO on (That's 7 sites for which you can monitor the Rankings)
See more details about what's included in the Business Plan here. 
That's a whole lot of power under the hood that you can use to help more people learn about your brand, services or business.
In this article, I'll show you how you can use the Business Plan to basically take a shortcut to the 1st Page of Google.
You see, there are several ways to get your content in Google Search results – and some don't include your site.
That's right!
You might be under the impression that the ONLY way to rank in Google is by building backlinks (tough, I know) and using on-site SEO so that a page on your site ends up as high in the SERPs as possible. That's not true.

You CAN rank on top of Google without publishing any content on your website.
In this article, I'll show you how to use Squirrly to rank content via platforms such as:
Ranking your content via 3rd party sites is a way to get your message out there and engage with lots of new users (even if you have a new website that Google doesn't trust yet).
The cost and the effort involved are considerably lower compared to trying to achieve the same rankings with a new site.
Then, in the second part of this article, I'll walk you through all the steps you need to take to keep track of how well you are ranking with assets posted on these third-party sites using Squirrly's Business Rank Tracking tool.
You'll walk away with a clear plan for how to use platforms such as YouTube, LinkedIn, Medium and Quora to rank your content on the 1st Page of Google.
Okay, here we go.
What Makes This an Amazing Opportunity?
Let's start with what you really want to know, which is:
Why should you invest your time and resources into this?
Let's look at some stats that will give you a clearer idea of why you should publish content to platforms like Quora, Medium, LinkedIn and YouTube:
Q&A site Quora claims to have a global audience of more than 300 million monthly unique visitors. Recent data points to over 5.8 million top 10 keyword rankings achieved by Quora in Google in 2019.
---
Quora links come at the top of many questions typed into Google, as it's a content-driven platform that features highly-informative, authoritative content. Quora has over 19.8 million pages of content indexed by Google (and that's only taking the English language domain (www) into consideration.
---
Recent data shows that Medium has a whopping 93 Domain Authority (DA). DA is a 0–100 statistical measure of a website's reputation. Domain Authority tells Google how trustworthy a website is (DA is a significant factor in how a website will rank in search engines).
LinkedIn's DA is 99 (not a surprise, considering most websites link to their LinkedIn page).
---
To sum things up:
These platforms have tons of traffic because Google loves to feature them in its Search Results.
Have high-authority (Google trusts content published on these sites).
Are Established and Trusted by many people from all over the world.
Have a large group of monthly active users.

By publishing content on these platforms, you inherit domain authority without having to lift a finger.
Read that again, it's important.
In other words, your content is much more likely to rank well rather than if you were to publish a piece on your website that probably does not have as much clout with search engines.
That's especially true if you have a new site (in which case it can be very hard for you to rank on Google because there is no trust and no Authority with the Search Engine).
In addition, by piggybacking off those site's high online reputation, you can compete for better keywords and actually have a chance at ranking for them. And get more eyes on your content.
Here's an example:
This article published on Medium ranks #2 on Google (#1 is Wikipedia) for "warped wall," and has been viewed more than 43,000 times.
28,158 of those readers found it through Google.
Plus, three years after the story was published, it still gets about 1,000 views/month.
So, is this of interest to you?
Well, hell to the yeah!
Okay. Cool. Now let's jump into the actionable stuff.
How to Use Squirrly's Business Plan to Rank on 3rd Party Sites – Step by Step Guide
The Business plan from Squirrly SEO gives you access to the most important tools that will help you carry out the process of ranking with content published on 3rd party sites like Quora, Medium, LinkedIn, and YouTube.
1. Research the best keywords to rank for
Keyword research helps you determine what topics you should tackle when creating content that you want to distribute using 3rd party platforms.
Main criteria to consider:
You should use terms that are relevant to your customers and the benefits that your product or service provides.
If your content is going to rank high, you want it to be on key phrases that lots of people are searching for.  Try to find keywords that have high search volume. This will help you figure out what people are typing into Google when searching for information related to the topic you are planning to write about.
If you have a Squirrly account, you can use Squirrly's Keyword Research tool to look at the search volume of keywords you are considering and find more alternatives.
After you find the right keywords, add them to Briefcase. You can Label them based on the channel you're planning to use them for.
For example, if you want to publish a new article on Medium that targets the key phrase "how startups can raise money" you would add that keyword to Briefcase and create a Label called Medium.

This way, you can easily keep track of your target keywords. This will also help you keep track of your rankings later on.
2. Optimizing Content using the Live Assistant 
Quora has questions and answers.
LinkedIn has Pulse Articles.
Medium has Stories.
YouTube has descriptions/video transcripts.
What's one thing that all these platforms have in common? That's right! It's Written CONTENT.
All of these platforms focus on Content.
Medium, Quora, LinkedIn, YouTube – these are all platforms that have great authority, which means it will be easier for optimized content that is published on those sites to achieve amazing Google Rankings.
Notice how I said optimized content – because you still have to optimize for SEO (this is how you help Google understand what your content is about).
Luckily, if you have Squirrly as your co-pilot, you can easily optimize that content using the Live Assistant which provides step by step guidance on how to achieve perfect On-Page SEO.   
This is because:
Once content is optimized, content is optimized (read more about this rule here).
That means:
You can optimize the content you want to post on Quora, Medium, LinkedIn, and so on inside your WordPress dashboard using Squirrly and then simply copy it to the platform you're targeting.
The Business Plan from Squirrly gives you access to UNLIMITED optimizations that you can make using the Live Assistant. 🙂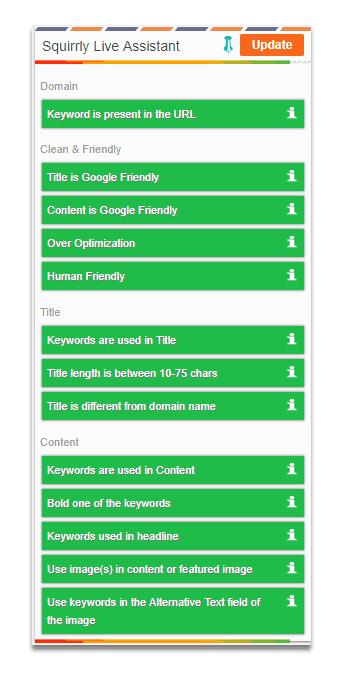 Important Things to Keep in Mind When Optimizing Content for these Platforms

Yes, you won't be able to reach 100% Optimization for content posted on Quora, but you can optimize the text up to a certain point, which will significantly improve your chances of ranking.
Other than that, think of your answers as you would of regular content you want to rank on Google. In other words, make sure that your answers have good formatting so that users can easily read it. Also consider adding images, quotes, statistics, past stories/case studies to give your content more depth.
Try to make your answers at least 500 words long – as long texts are usually ranked better.
Also – and this is very important – don't create duplicate content. Read: don't just copy an article you've published on your site to Quora. Google hates duplicate content.

When creating content for this site, I recommend focusing on long-form (over 1,500 words), evergreen content, as it won't become outdated.
Another thing you should know is that you can't control or choose the meta-data of your article on Medium. Generally, on this platform, your meta-data will be identical to your article title, excerpt, and description.
Also, be sure to check the URL Medium automatically generated for your article. If unsuitable, adapt a personalized URL that suits your SEO needs (the URL should include your target keyword).
Finally, as in the case of Quora, focus on creating original content. Don't just copy-paste your existing blog articles into Medium to avoid Duplicate Content issues.

Optimize your video descriptions for your target keyword (again, you can do the optimization inside your WordPress and then simply copy/paste the optimized content as your YouTube description). Make your description 100% unique.
Aim for at least 300 words, and make sure to follow the indications provided by the Live Assistant and add the most important keywords toward the beginning of your description.
You can include a transcript of the video in the description to give more content for Google's search algorithm to go through.

For articles that you want to publish on LinkedIn Pulse, it should be fairly easy to reach almost perfect optimization using the Live Assistant.
In addition to that, I recommend following the same best practices as you would when creating an article for your blog (make sure you have useful, fact-based content, good formatting, and catchy visuals).
And don't forget!
Don't double-dip!

Meaning: don't just post the same article on your website and LinkedIn. When your content appears twice on the web, it creates duplicate content, which Google HATES.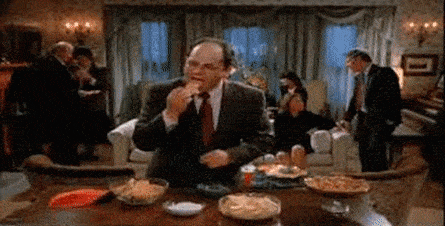 Easily Track Your Progress using Squirrly's Business Level Rank Tracking Tool
Once you've created and optimized content, it's time to see the fruits of your labor. I'm talking about finding out how your content published on those platforms ranks.
If you have a Squirrly Business Plan, that is super easy to do! (see pricing details here)
Step 1: Add Sites to Business Plan
There are seven sites included in the Business Plan. Once you have added your optimized content inside the platforms mentioned in this article, you should connect those sites to Squirrly SEO.
Go to my.squirrly.dasboard (you can access it from the Overview section by clicking on Profile).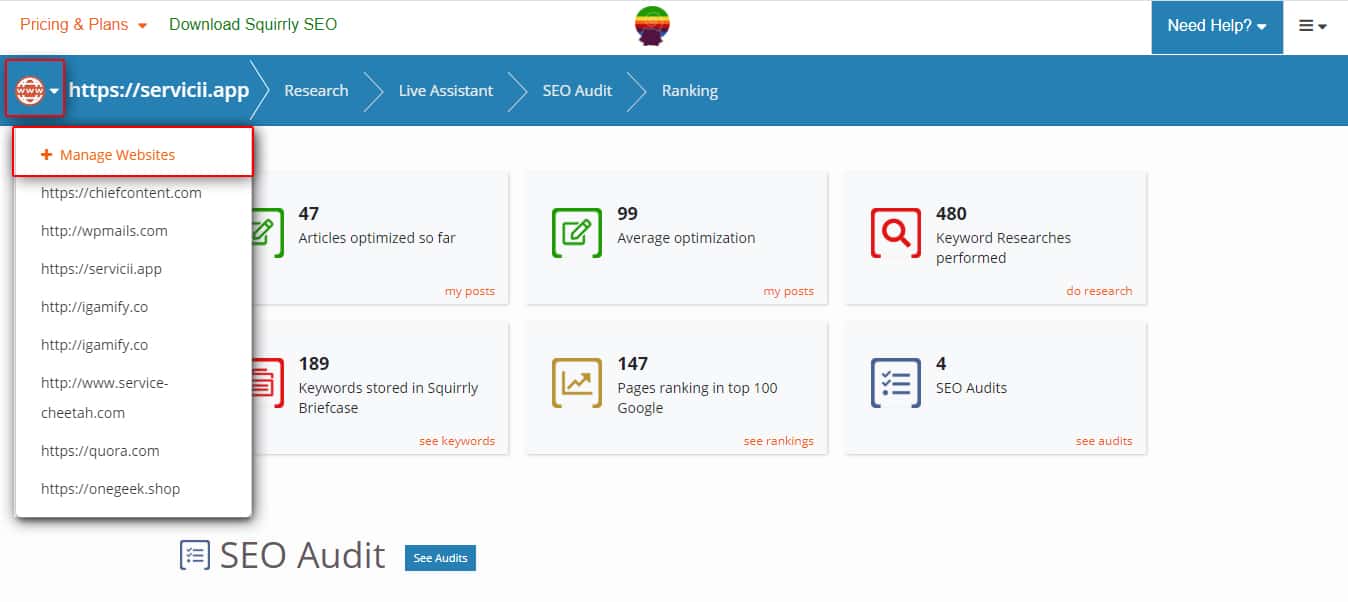 Click on Add Website and add the Website for which you've created optimized Content (for which you'll also be tracking your Rankings)

Step 2: Begin Tracking the Rankings
Go to Briefcase and select the keywords for which you want Squirrly to monitor the Rankings.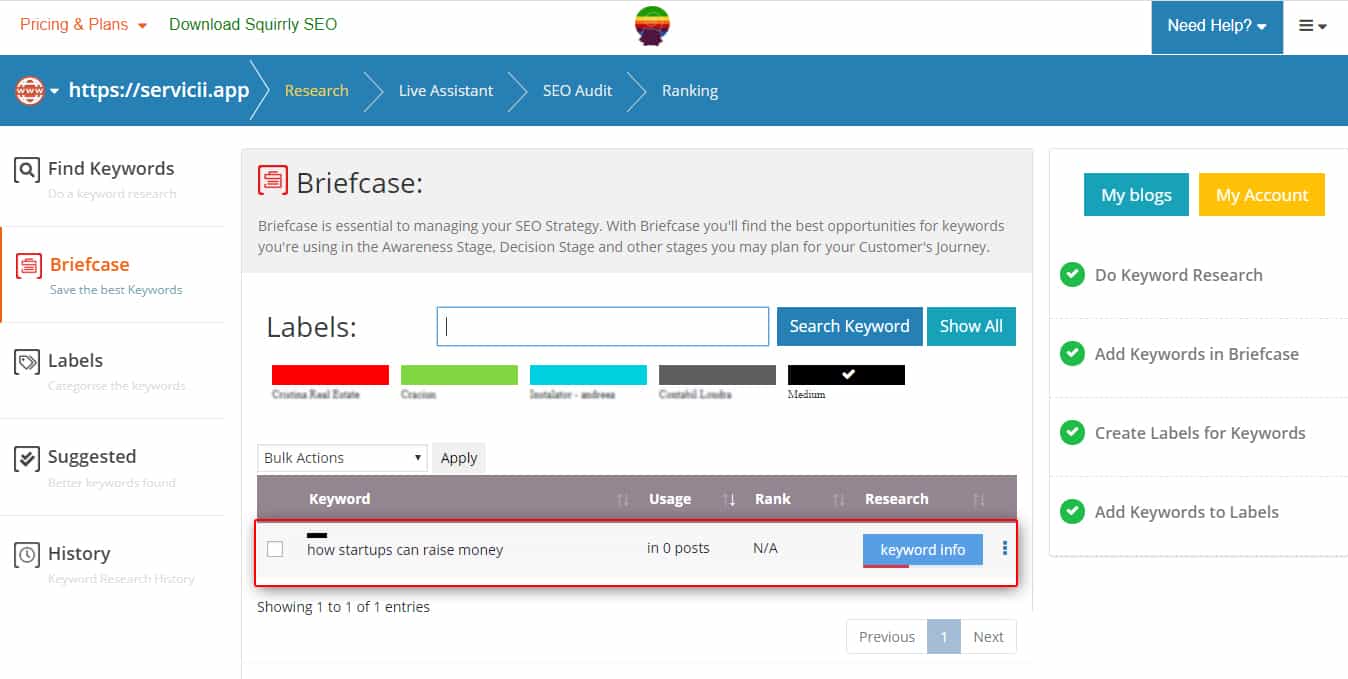 Send those keywords to Rank Checker.
Make sure you've selected the correct site from your list of websites to make sure you're accurately tracking the Rankings for each site you are monitoring.
Step 3: Monitor Your Progress 
Once you are starting to rank on Google with content published on third party sites, more and more people will see it.
In the Ranking section of Squirrly SEO, you can keep an eye on how well your assets published on these platforms are ranking on Google.
As part of the Business plan, all rankings are checked via our internal servers (as opposed to Google Search Console). So, you'll be able to accurately keep track of your rankings. We update the rankings daily so that you don't miss a beat.
(BONUS) Best Practices that Will Help You Maximize This Opportunity
The best practices listed here will help you effectively use the platforms we talked about in this article and drive traffic to your site.

Promote your site the right way to get traffic. The right method of getting traffic is by writing awesome content with sincere effort and inserting links organically.
Write in categories that you're confident about. This will help establish your authority as a knowledgeable person on the topic.
Build your profile so that shows you're not just an answers-writing machine.

Add calls-to-action inviting readers to discover more of your work by visiting your blog articles.
Use your bio description to make readers want to learn more about who you are and what you do.

Add Cards and End Screens to increase your YouTube channel's viewership.
Upload a custom thumbnail image for your video's result link to get more clicks from Google.
Include a link to a landing page in your description and make sure that once visitors land on that page, you have a way to capture their email address so that you can push them further down your sales funnel.

Make sure that you've completely filled out your profile. As you fill out more content on your profile, the "Profile Completeness" or "Profile Strength" circle will fill in. An authoritative profile is more likely to get indexed.
Consider publishing a teaser post on LinkedIn Pulse that directs users to your site to read the full article.
It's Your Turn Now! ?
Quora. Medium. LinkedIn. YouTube.
They are some of the best sources of high-quality traffic on the internet and can help your content gain traction in SERPs for the keywords you are trying to rank.
However, I don't want you to end this article thinking that using this strategy means you should abandon your efforts to rank on the 1st Page of Google with your own website.
Far from it. I just wanted to show you how the Business Plan from Squirrly makes it easy for you to fit it in your marketing strategy mix so that you can diversify your approach (if you don't have a Business Plan yet, here's how you can UPGRADE).
Use these platforms competently to increase online visibility and you can get lots of views for your content, establish legitimacy, and start building new connections online.
Sure, it's usually preferred to have people read your content on your website. However, it's infinitely more valuable to have people read your content on one of these platforms than NOT having it read at all.