Latest posts by Florin Muresan
(see all)
This is what everyone has been wondering about lately and we finally reveal all the changes.
It took a while to get this page ready, because we've really improved a lot of aspects of Squirrly SEO. We had to make sure that we're helping people do exactly what Google 2017 wants, with all the latest changes in the ranking factors AND also with all the latest focus on social media.
I'm saying Google 2017, because I want to make it obvious that we are 100% committed to making all the right changes inside of our software. To better express the changes from Squirrly SEO 2016 to Squirrly SEO 2017, we're using the G16 vs G17 elements in design.
Very soon, the badges for each G will be available to you in the plugin.
Without further ado, I present to you:
Squirrly SEO 2016 vs 2017.
Keyword Research – G17. The best Keyword Research Tool Available for WordPress was re-designed to a whole new Level.
We'll soon have more info available about our Market Intelligence: Keyword Research tools. You can read what we already have available here.. Until then, I want to show you some of the most visible changes you'll notice.
3x Times More Long Tail Keywords than the G16 version of the Keyword Research Tool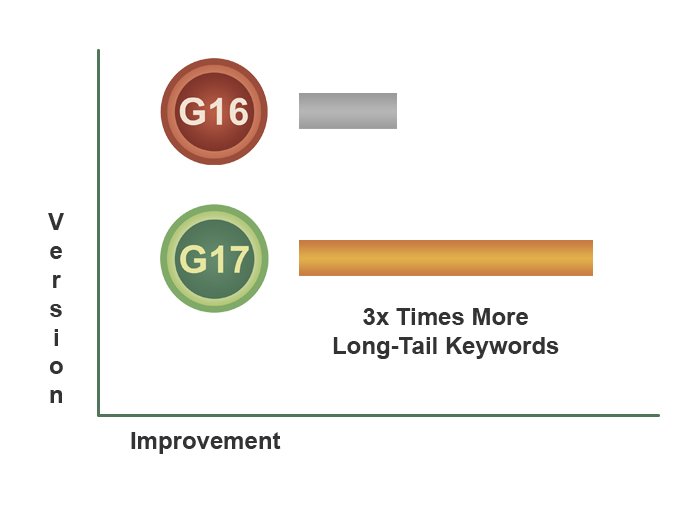 The algorithm changes we've made helps us give you 3x times more Long-Tail Keywords. This is massive SEO value. Your focus should be on long-tail keywords because people who search for long-tails have a much clearer intention of making an action if the content is good. (buy action, subscribe action, time on page, check other pages, etc.)
Super Efficient. Data Driven.
The Keyword Research tool that you get from Squirrly SEO 2017 is more powerful than ever, thanks to its integration with the rest of the Market Intelligence features we place at your finger tips.
One of the biggest parts of our Market Intelligence features is Web Authority and all the website stats we collect from all around the web.
We take this data into account starting with Squirrly SEO 2017 to give you better suggestions for what people search on the web, to see the search volumes, the trends and the web authority of the websites you're trying to compete with for different search queries.
2x More Countries Added – Soon to add even more.
We've integrated with data that we get about the search behavior of users from many other countries. Since the g16 version of our Keyword Research Tool we've added 2 times more countries that you can choose from.
Whenever you choose a certain country in our Keyword Research tool, it will start showing you how the people in THOSE countries search for the keyword ideas you have. This gives you the right information you need to tackle your desired market.
Our algorithm is better than ever and we've completely redesigned it. This allows us to add many new countries very soon.
Complete Focus Towards Actionable Data – powered by Market Intelligence.
The general information regarding Keyword Competition wasn't as helpful as it should have been. You got the same kind of information for a keyword, no matter the site which you were using at that given moment in time.
Since the Keyword Research Tool from Squirrly SEO 2017 has now become part of our Market Intelligence Suite, we now show you a much better metric for each keyword. Oh, and it might be different from site to site.
Easy to Rank Vs. Hard to Rank.
You will no longer get some general info. You will get to see exactly if your current site really has a chance to outrank others if you go and optimize for that keyword.
My.Squirrly.Co G17 – Your Back-Office for Managing Squirrly feels More Like Your Office.
For us it was really time to get squirrly and start improving our back-office. The place where you kept track of the sites on which you've installed the Squirrly SEO Plugin and where you could find invoices and next billing dates.
We want your back-office for using Squirrly SEO to become a real office. That's why with the g17 version of my.squirrly.co we're giving you a lot more:
See the Latest Updates and Improvements we make for the Squirrly SEO software.
See your list of sites and find out if the Audit Suite features of Squirrly had any problems generating the weekly Audit for you.
Request a new Audit every single hour. (if you're doing a lot of work on your WordPress site, this will sure come in handy)
Check out your usage stats. Better understand how much you've used Squirrly SEO recently.
Account Information. This was a missing piece of the puzzle. You can finally get a clear view over your current plan and the number of actions you can still make (like keyword researches, optimizations, etc.)
Keyword Research. Yes, we didn't just make it better. We're also placing this great re-designed feature inside your my.squirrly.co interface. It will allow you to perform many keyword researches and we'll give you an option to download the results to CSV.
Re-Design. We've re-designed it to make it look better and offer more clarity.
Find Invoices
Find Billing Dates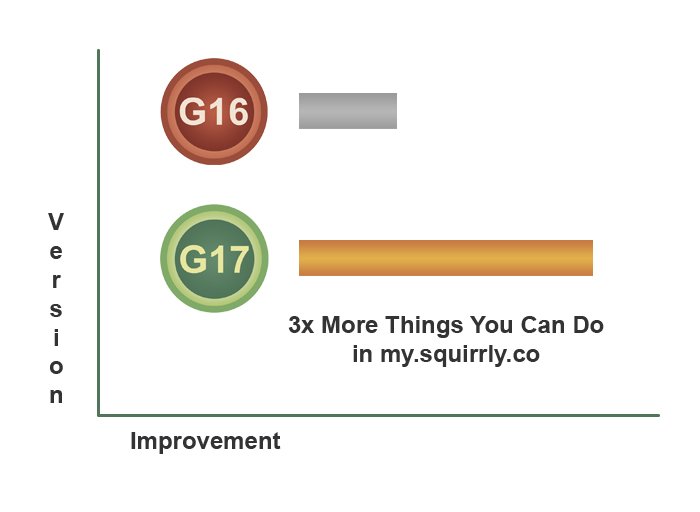 SEO Audit becomes Squirrly Audit Suite.
The Weekly SEO Audit you get from Squirrly SEO has always been a lot more than just an SEO Audit. Especially if you had the PRO version and it gathered data about 100 pages of your WordPress site.
That's why you'll start seeing it called the Squirrly Audit Suite. The way it currently "lives" as a piece of software on our servers (yes, we had to buy more servers for the audits to work well) is the following:
the Blogging Audit
the Traffic Audit (which will get a Google Analytics integration this year)
the SEO Audit
the Social Media Audit
the Links Audit
the Web Authority Audit
So, basically it's not just an SEO Audit that you get from us on a weekly basis (or hourly basis if you request new ones in my.squirrly.co). It's a full on Audit Suite with different audits made for each marketing area that Squirrly SEO can help you with.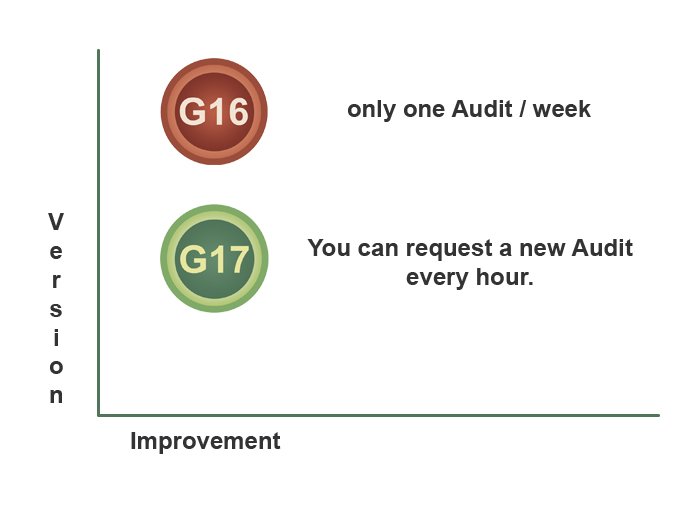 Other than the announcement of how the software works, how it's divided into 6 pieces and how we'll improve one of the audits this year by integrating with GA, I want to tell you that the data these audits provides is much better than it used to be.
The g16 version that we've had saw a lot of crawler problems, that we've now fixed in the g17 version. Also, after releasing Squirrly SEO 2016 Twitter decided to remove their Twitter shares (favorites and retweets) data from the API and no software provider could find any data about this popularity metric on the web. It's the reason why we had to take it out for a while. But rest assured: we're introducing it back again and it works really well!
Google Rank -G17. Understand How Well You Rank for Your Keywords. Now made to the full specs of Google 2017.
Remember when I said that Squirrly SEO really makes sense with a monthly or yearly subscription? >> It's because of many updates like these.
When you make a static plugin or a WordPress theme you don't really need to work much on it after you release the first stable version. You are never forced to continuously work on it and improve it to someone else's ever-changing standards.
Well, at Squirrly we don't really have that luxury of being lazy. We have to keep being squirrly, keep being agitated and agile. We need to keep up with all the latest updates and improve the software for you.
New Year. New Google.
Since our Squirrly SEO 2016 release, Google has changed a lot of things in the way it works. This pushed us to update the system that finds out your Objective keyword rankings on Google.
And I say Objective, because the results you get from us are the actual, 100% accurate results that people see when THEY search online, not when YOU search online. Because Google personalizes your experience, if you try to search for your keywords, you will always get biased data which is not true for the desired customers you target.
More Countries Added.
We've added more countries for which we can display your Google Ranking. The way you rank for Argentina is different than the way you rank for Spain.
More countries are now available, so if you target very specific markets this will surely come in handy.
Images -G17. Copyright-Free, High Quality and in High Volume. Perfect for Your Content.
Based on the keywords you choose for your articles, Squirrly SEO 2017 offers you great looking images that you can place in your content. Many copyright-free images. So many, that in fact we now offer you 4x more copyright-free images than ever before.
Added:
Better WordPress Integration.
It's not only that you get more awesome images. They now get saved (if you choose) directly into your WordPress Media Library and you can continue using them in other WordPress features, plugins or themes.
Inspiration Box -G17. Turn Real Moments Into Stories.
If you want to write your WordPress blog posts like a true journalist you will care a lot about sources and about being in the loop with all the latest news from the blogosphere.
Sometimes the best way to do SEO and Social Media Marketing is to write about trending items. The fact that a trend is currently on the rise means that you can target a new keyword that other people haven't covered yet. The best part is: the demand for that keyword keeps growing as the trend keeps rising.
This approach also helps for Social Media, because SM is all about What's Happening Now.
The Inspiration box from Squirrly SEO gives you the opportunity to study these new trends directly in your WordPress dashboard, without having to leave; and without having to search in countless different places.
Sometimes, you need to understand what the "new thing" means, so that you won't make mistakes (due to the fact that you don't understand the new trend properly yet).
In your WordPress interface, you'll be able to read all the latest ideas that people Tweet about the new subject. You'll get to see if Wikipedia has entries about that yet and you'll also be able to find what the latest blog posts from the World Wide Web have to say about the rising trend. You can even read the articles straight from WordPress.
This is a huge workflow improvement, that you can't get anywhere else.
The G17 version is far improved from the G16 version and it works with the latest Google updates. Most of the older functions have become deprecated and we had to change them, in order to keep the Inspiration Box up and running for you.
Inner Linking – G17. Improve your SEO by placing more links to great pages from your site.
The Inner Linking feature of Squirrly SEO has been greatly improved since 2016.
In the inspiration box you have the button for Inner Linking. It used to offer fewer suggestions for pages from your own site to which you could link.
Now we've changed it so that you can search by keywords and find the most relevant pages from your site that you want to link to. A clear example: Let's say you're writing an article on "Content Marketing Tools Your Business Needs in 2017". With the G17 version you can search for "social media tools" and find a relevant article you've written on this topic, which you can connect to your current article. By saying something like "for more details on Social Media tools that we use at Squirrly, you can check this blog post [link]"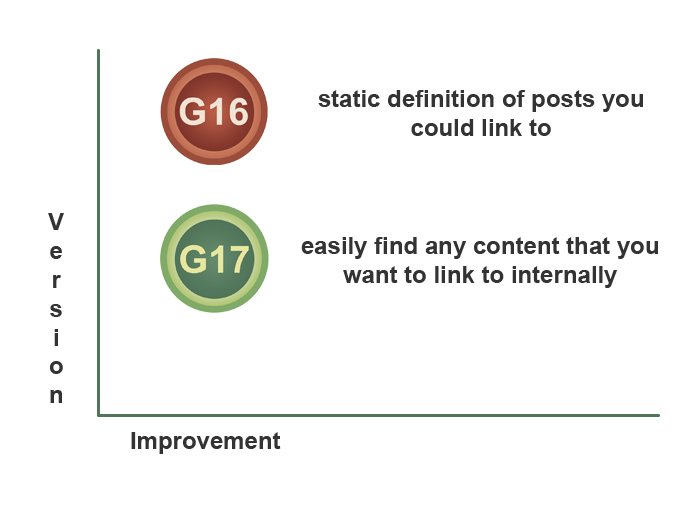 SEO Star -G17. More Help For Content Marketing
We've improved our Web Authority Index and the Market Intelligence we provide in our Keyword Research feature. Therefore we factor in more ideas for increasing the SEO Star Score of our users.
Squirrly Snippet -G17. Powered by TrueRender
The Squirrly Snippet of Squirrly SEO 2017 is powered by TrueRender.
In the SEO preview that we provide in our snippet you will see exactly how the post will look like when people find your listing on Google.
Yoast, All in One SEO and the rest do not simulate the way Google will truly display the search result, which leaves a lot of margin for error, because many themes and plugins that you use can interfere with the code when WordPress generates your page. In these plugins, you might think everything will be displayed all right, when in fact it will not.
What you see in our Snippet is exactly what your potential customers will see on Google when they see you in the search results. This offers you the real control you need.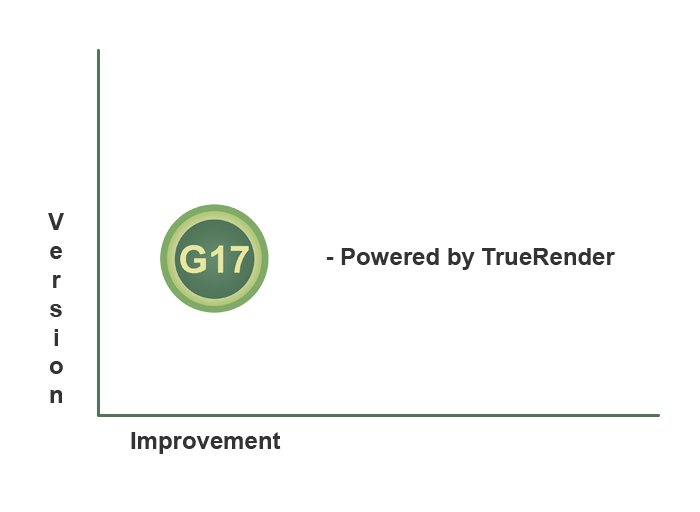 Better WordPress Integration
Also, the Customize Options have been improved to provide better control. Also, for the social media images that will be placed in Open Graph and Twitter cards you can now choose to place images from your WordPress Media Library.
Customer Service Channels -G17. Excellence in Customer Service. Now on More Channels Than Ever Before.
Since we first launched in February 2013, we've been obsessed with Customer Service. Unlike other WordPress services you're used to, we don't shy away from Customer Service. We encourage you to ask us questions.
Because of our approach to Customer Service we could develop the most powerful SEO Software available for WordPress. We kept making Squirrly SEO better, due to our interactions with you.
For customer service we had the following channels:
support button inside the Plugin
emails: support@squirrly.co , florin@squirrly.co , florin@dmsuperstars.com
Google Plus Community
For the Squirrly SEO 2017 version we kept these channels, but we've also added new ones:
Youtube Live Chat, every Thursday 4 PM on our Youtube Channel
Twitter: we provide support, we write about new updates to the software products we offer, we write content marketing lessons (every Mon. and Tue.)
Facebook Page.
Sites: plugin.squirrly.co and howto.squirrly.co
JSON-LD -G17. We were the first to add this to WordPress. Now we're the first to improve it.
In Squirrly SEO 2016 we've included the JSON-LD feature, which helps Google better understand what your WordPress site is about.
In this new version, we also introduced Instagram, Pinterest and Contact Information for JSON-LD.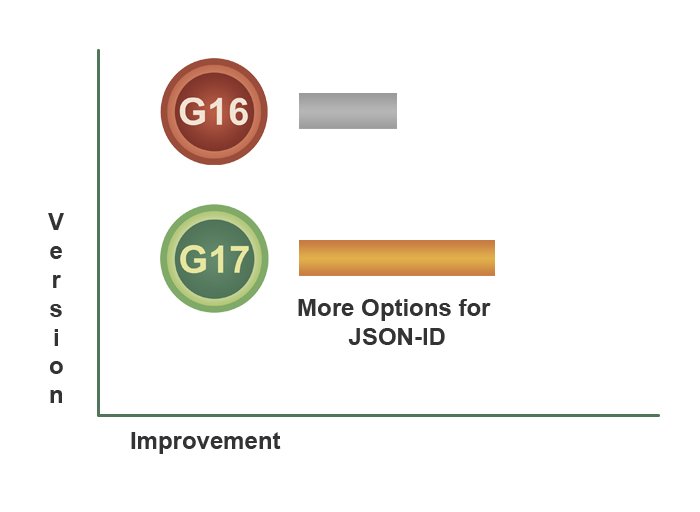 Rich Pins -G17. 3 Times Better. Now with WooCommerce integration
The rich Pins have really been improved.
they work well now (we had a couple of bugs in the first release, from G16)
added the Rich Pins Validator
Works awesomely with Ecommerce for WordPress. Your products will look great when pinned to Pinterest user's profiles.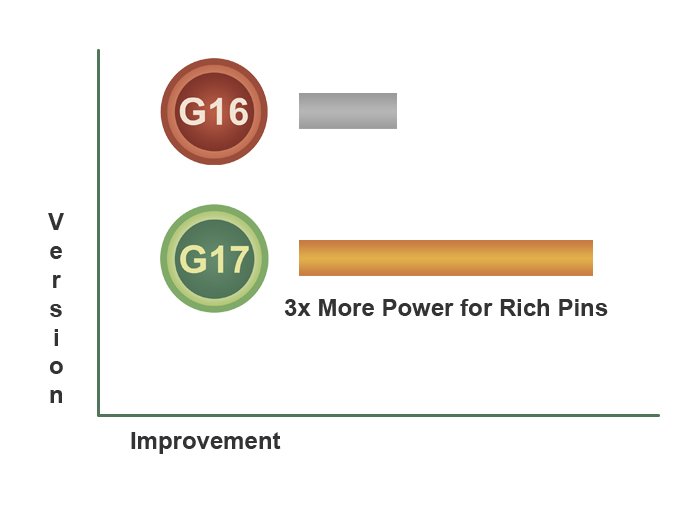 Open Graph -G17. The best Open Graph Plugin for WordPress gets an Update. Videos.
Start using the Open Graph from Squirrly SEO. When someone shares your page on Facebook AND your page contains a video, the OG from Squirrly shows a clickable thumbnail in Facebook. When anyone from the user's audience clicks that thumbnail, the video will start playing inside of Facebook.
We've had a couple of real estate agents try this out for the Facebook Pages of properties they were selling. They've told us this really increased their conversions and that their customers were happy to get to see the estates directly in Facebook, without having to navigate to other websites.
Also: you can now add a custom image for Open Graph when you optimize the front page (the homepage) of Your WordPress site. [works with both static and blog feed types of front pages].
Plugin and API Speed -G17. More Speed. Faster WordPress.
We were already 3 times faster than the Yoast plugin and 2 times faster than All In One SEO.
However, this didn't stop us from optimizing the speed of Squirrly SEO even further. We've made it work well for users with very slow Internet Connections (the API used to have problems when the Internet speed was too slow).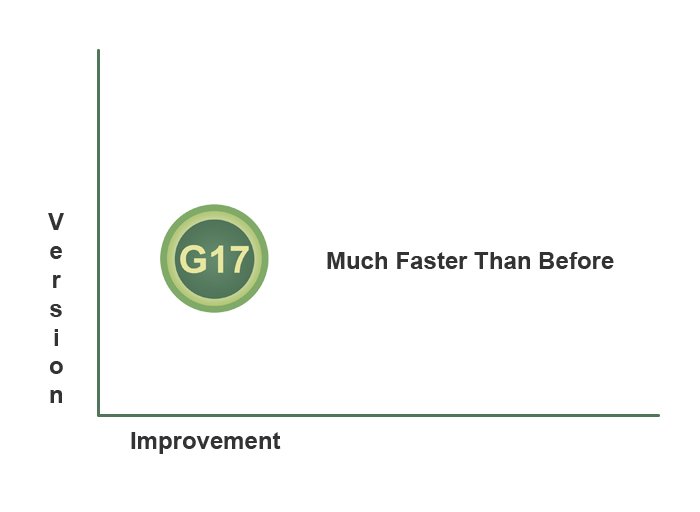 Built-IN SEO Settings -G17. Powered by the Duplicate Remover.
One of the most important updates we've made is something that's very specific to the WordPress environment which really becomes a messy jungle after installing more themes and plugins.
Because most developers do not follow the very clear guidelines of WordPress.org lots of problems appear.
The most common one we're seeing is WordPress Sites having multiple Open Graph Tags, Twitter Card Metas, Title METAs, Description METAs, JSON-LDs, etc. This is completely wrong and it affects aspects like: Google Rankings, html code errors.
The Built in SEO Settings from Squirrly SEO are now powered by the Meta Duplicate Remover we've created, which makes sure that only ONE entry for each type of META will appear in the final code rendered by the browser.
Active by default.
Also, by popular opinion from our users, we're now making the SEO Settings from Squirrly active by default.
This has always been requested, and we're finally doing it. The SEO Settings we offer have become truly amazing over the last years. Squirrly SEO 2018 will need these settings active anyway, for the great SEO surprise we'll soon reveal to everyone.
Tracking -G17. They Change. We Change.
Changes for 2017.
The tracking codes from Google and Facebook have changed since 2016, and we've updated the way we help them do the tracking for your WordPress site.
Added AMP support for Google Tracking.
When your site is in AMP mode, the Google Tracking will keep working due to this update we've made.
So, you think Squirrly SEO 2017 is Cool? Wait 'til you see Squirrly SEO 2018.
We got really squirrly with all our development and moved much faster with our plans for the innovation we had prepared for Squirrly SEO 2018.
That's why Squirrly SEO 2018 will be released in April 2017.
Until then, know that once we finish the release for Squirrly SEO 2017, your license will automatically be updated. No extra actions required to update the license. You'll just have to update your plugin to the latest version.