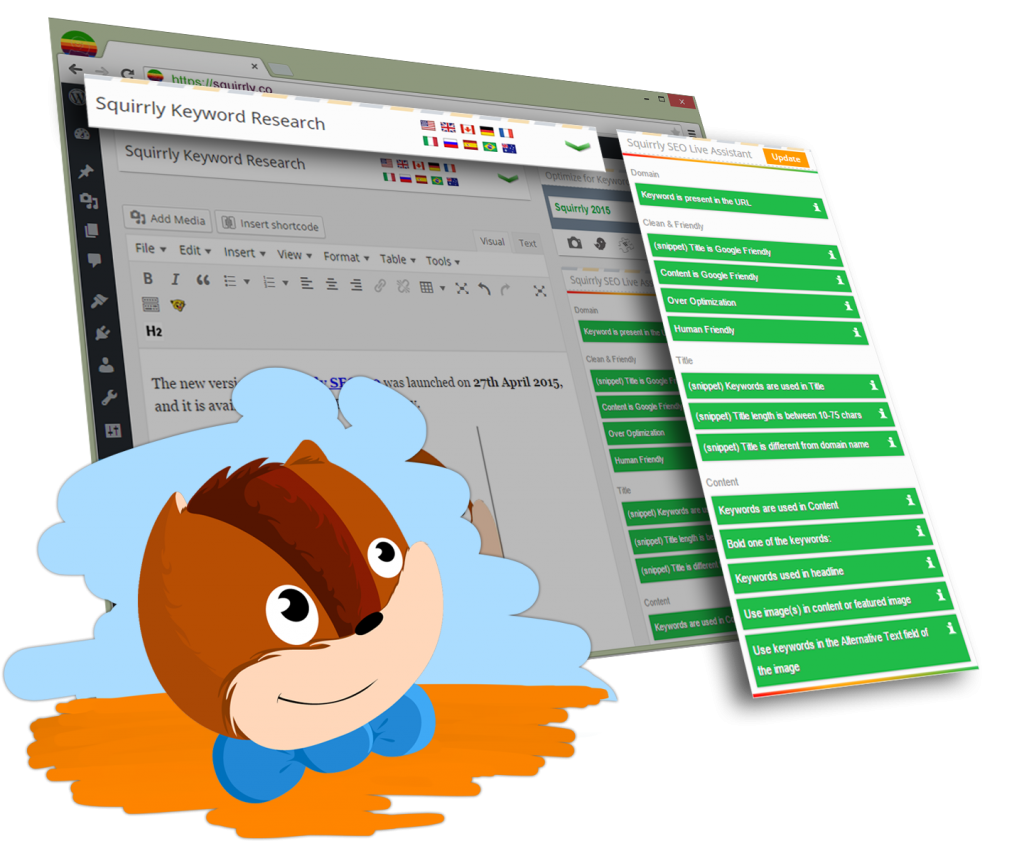 Upgrade your SEO with Squirrly and reach top places in Google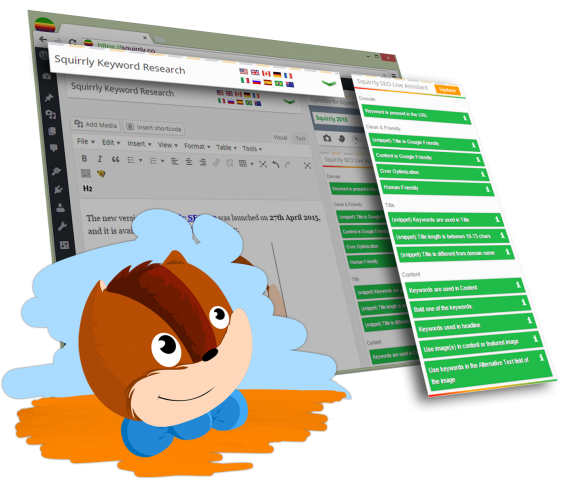 All you need for WordPress SEO in just one plugin
Attractive sitemap design
News, Images and Videos included
Analyze every single article and see how it improves over time
Comprehensive Tutorial for learning

how to fully optimize your site's structure
Enjoy the experience with the
new look of the SEO Live Assistant
Shows your profile on the right-side
in Google search results page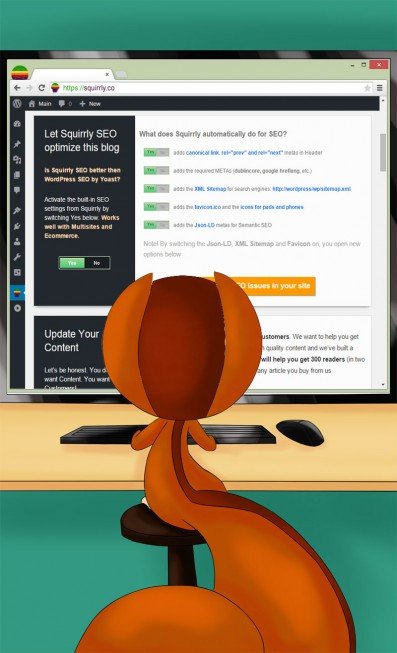 Multisite Sitemap and Site icon
Google Ranking and Analytics


By becoming a SEO Star, you will unlock all the features from Squirrly, and use it to the full potential.

Why should I become a SEO Star?

We've already tested the plugin with 49.000 people, and they experienced a 280% growth in traffic for their websites.
Tested with over 49.000 clients
Your Site Visibility will grow significantly

Json-LD helps search engines in identifying whether a website contains information about a Person or an Organization.
It shows social media accounts directly in the Google search results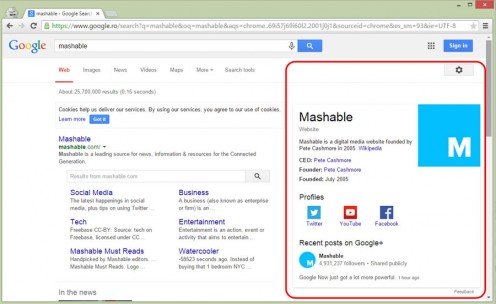 Now you can use Squirrly Keyword Research to find even more keywords for your posts.
Check the optimization progress at the top of your post and in the Live Assistant area
New optimization tasks are added to the latest version of WordPress.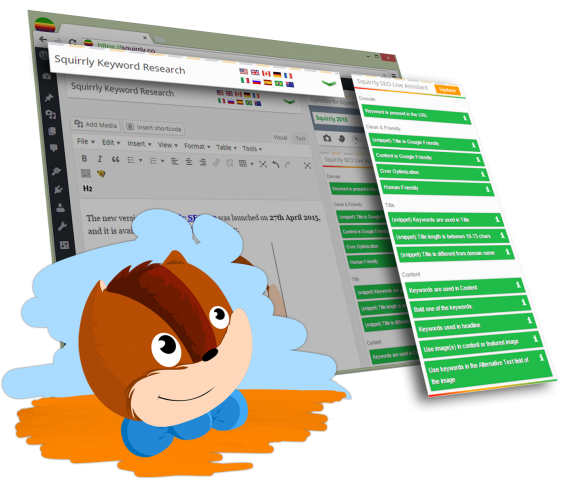 "The Squirrly Report is really quite nice! It is a great comprehensive overview of your website and would be a great way to "tweek" a site that is new or in transition. I would be happy to recommend . . ."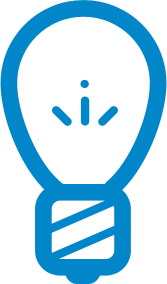 Connect your site to Squirrly and you'll get
Free Training session that includes 14 lessons and 10 actionable work files, await for you after you're done installing the plugin, and after you connect to Squirrly
(you'll receive them by email)
You will get a weekly audit report.
With one simple look, you can see which areas need your immediate attention, and you can start fixing them right away
You'll be able to get support from us directly from the plugin, through Facebook, Twitter, email, or we can even schedule a Skype call, if technical fixes are needed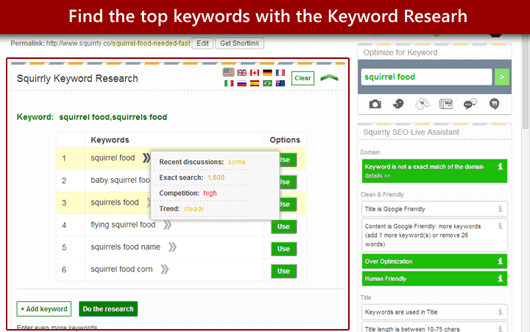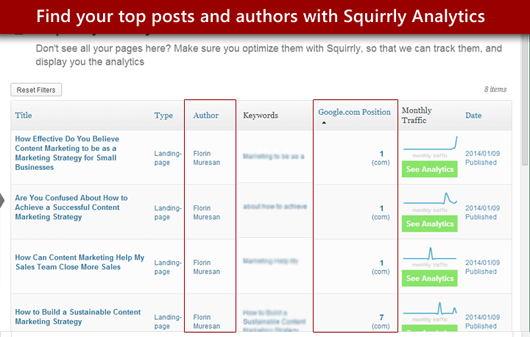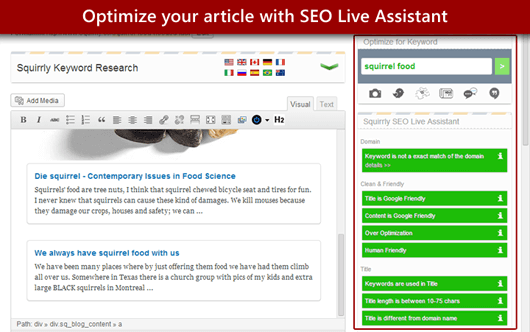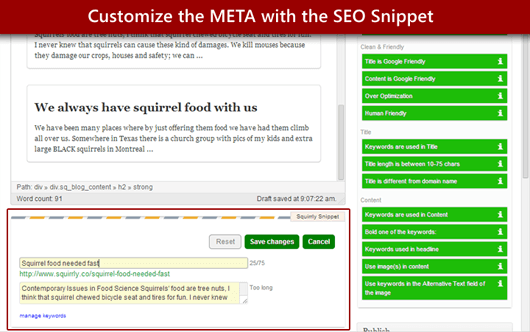 Download Squirrly 2015 Now